Majesty Luxury Cabin, Sevierville, Tennessee Vacation Rental by Owner
Legacy Mountain, Sevierville Vacation Rental Cabin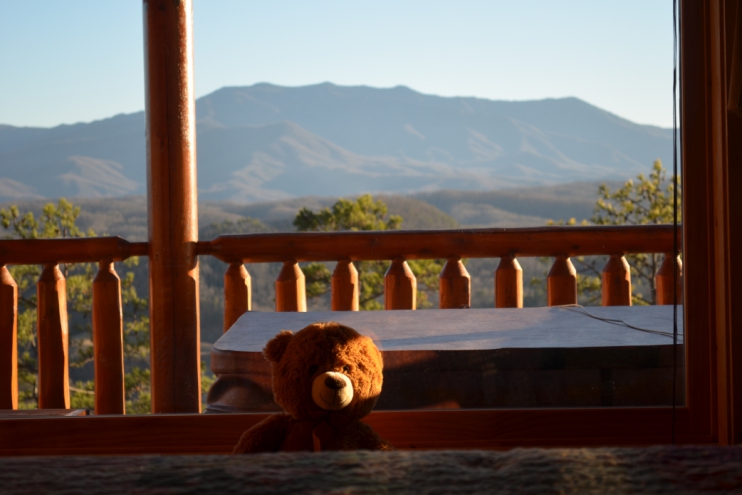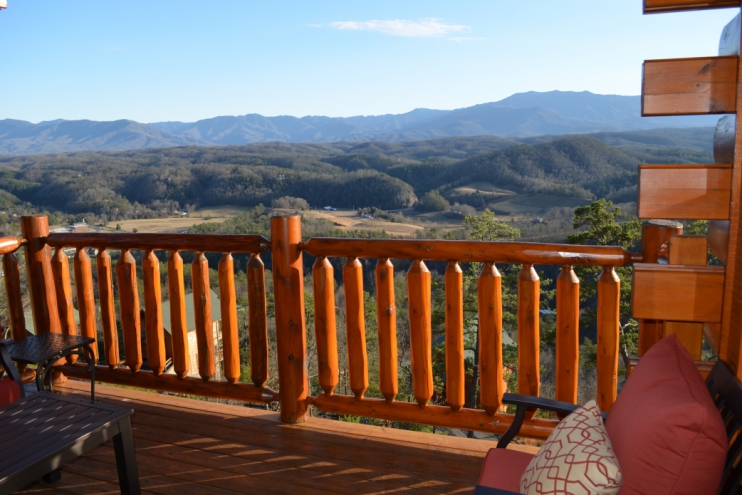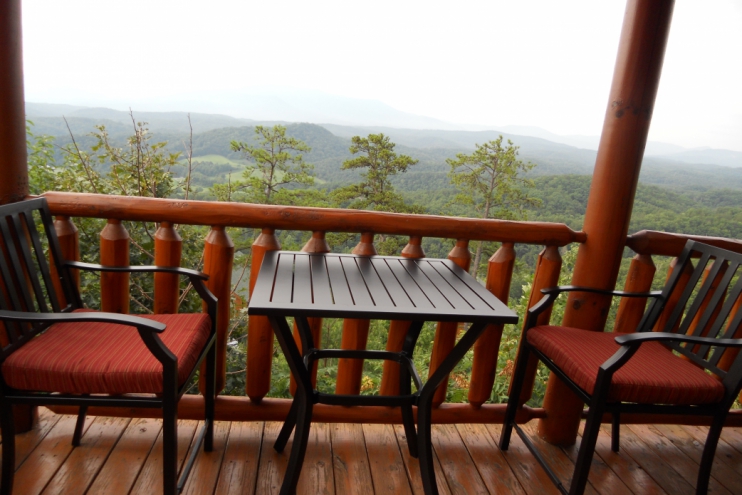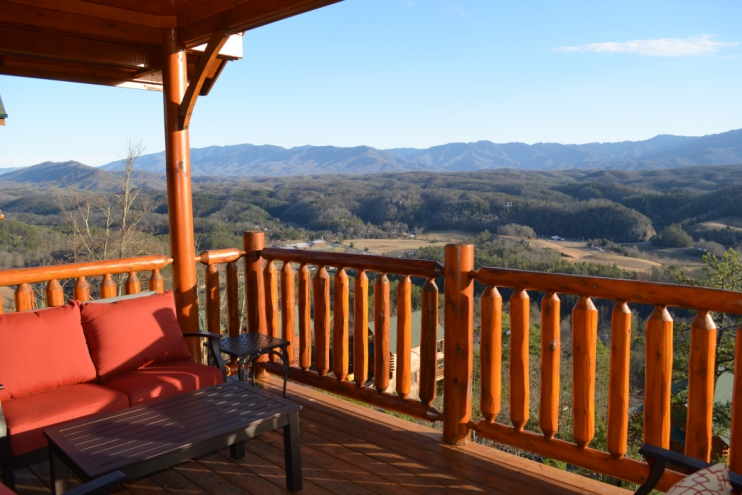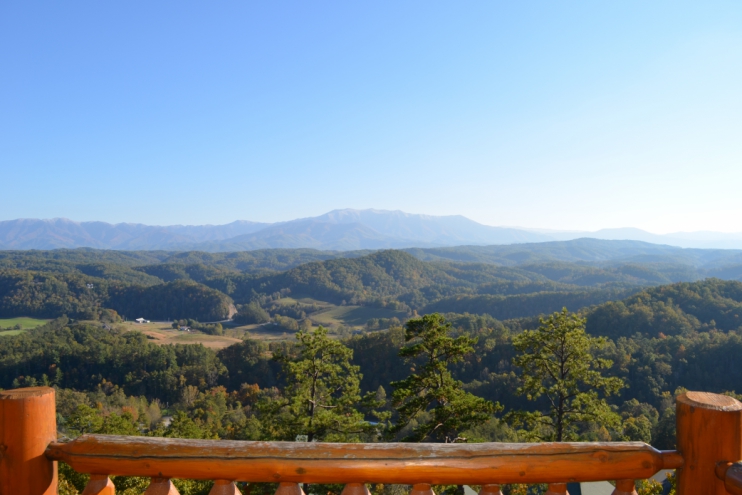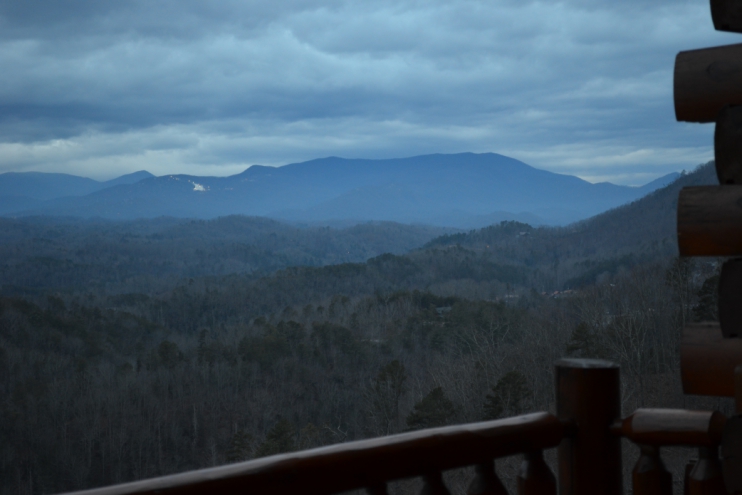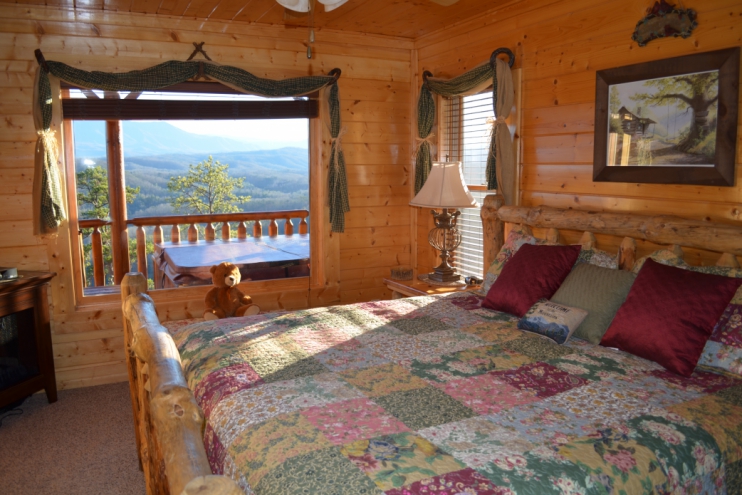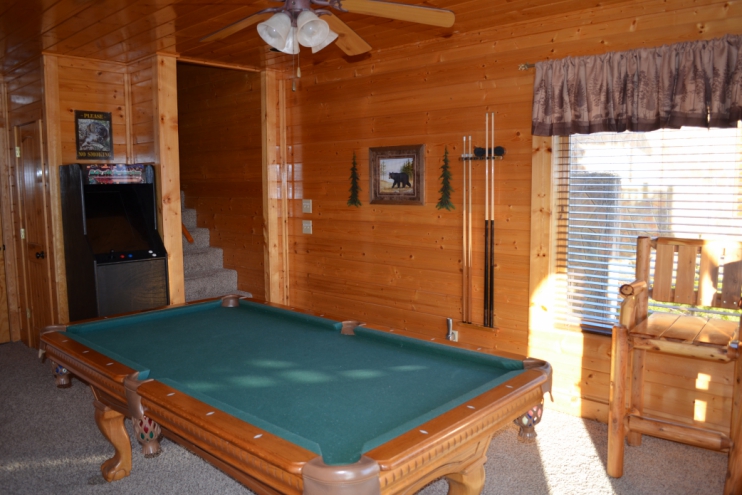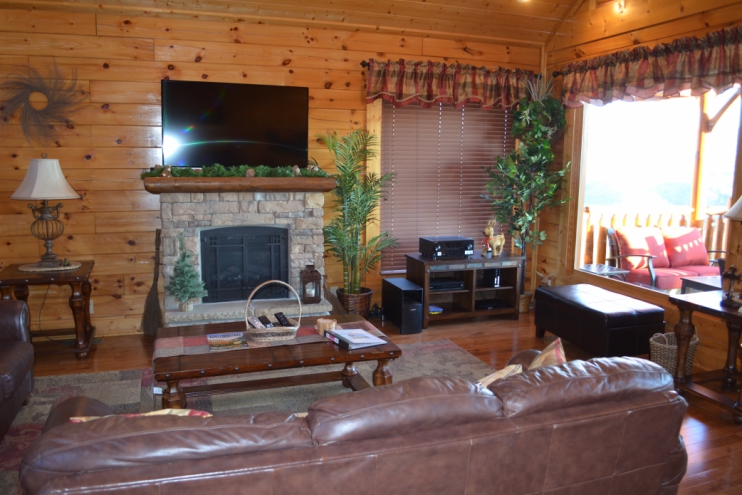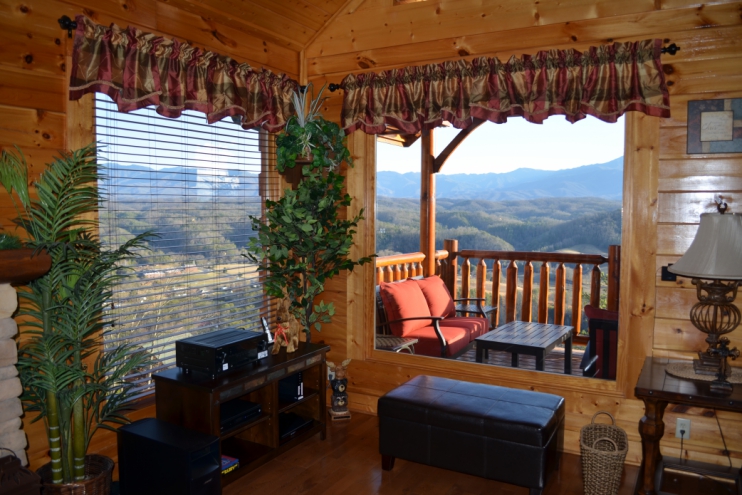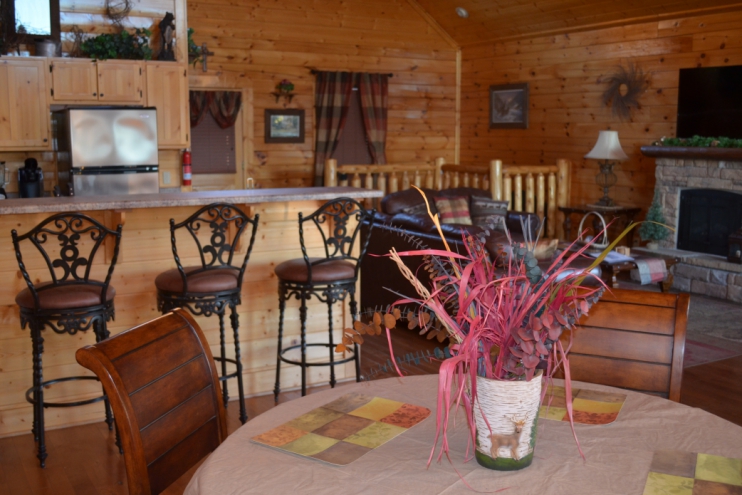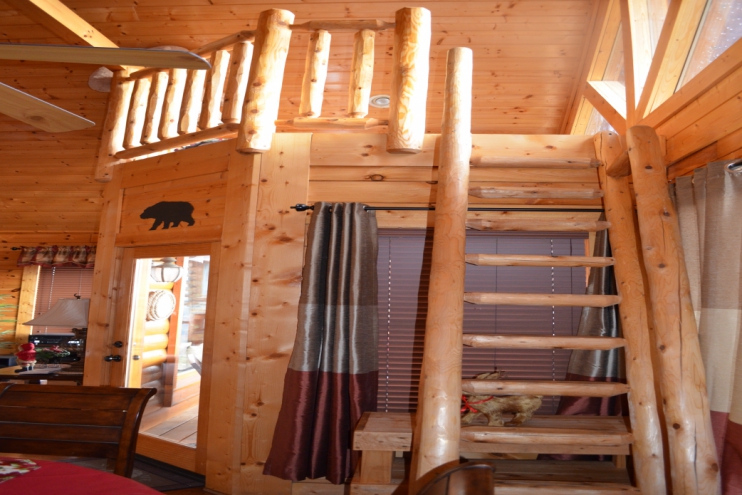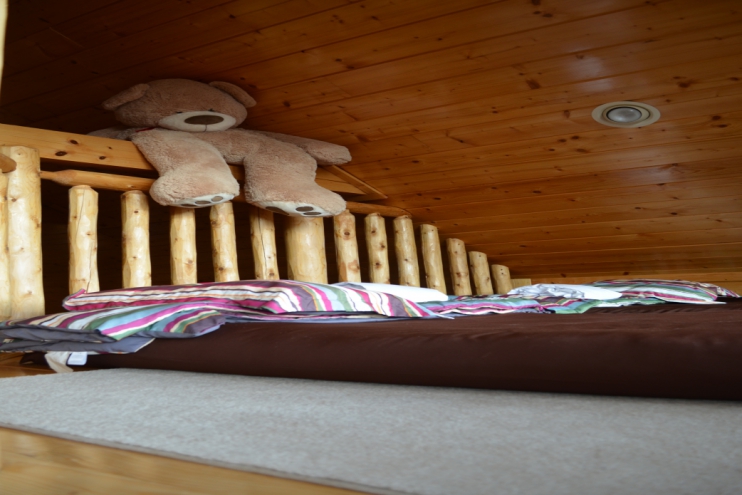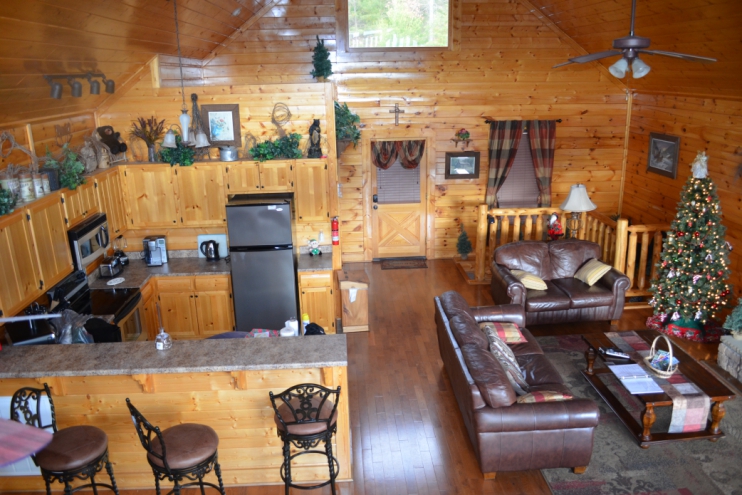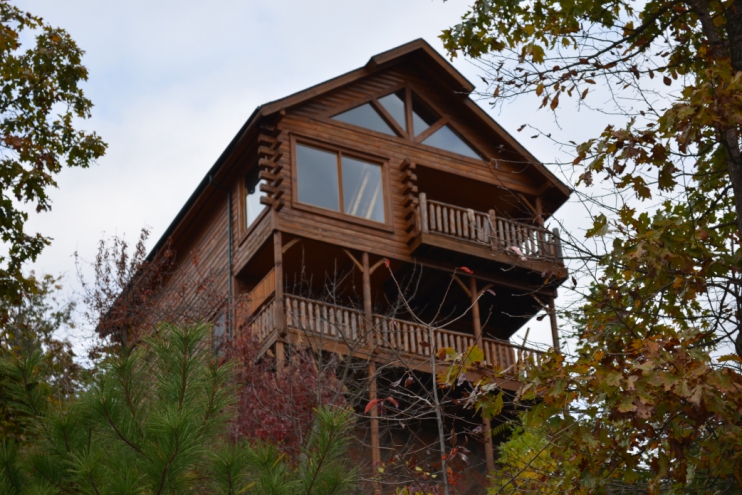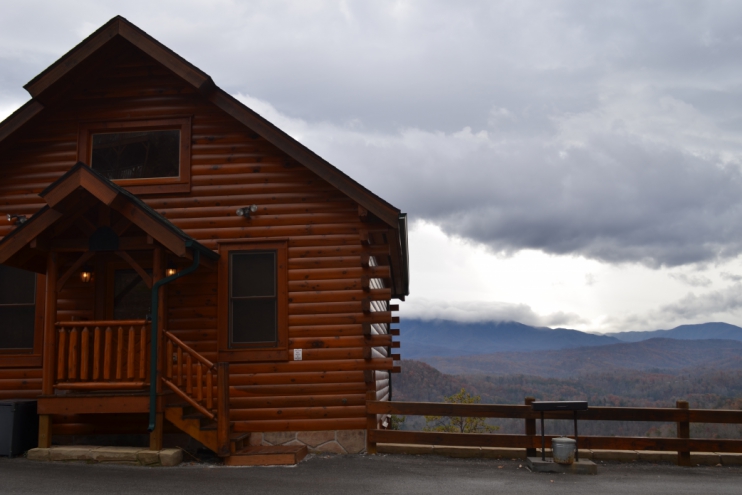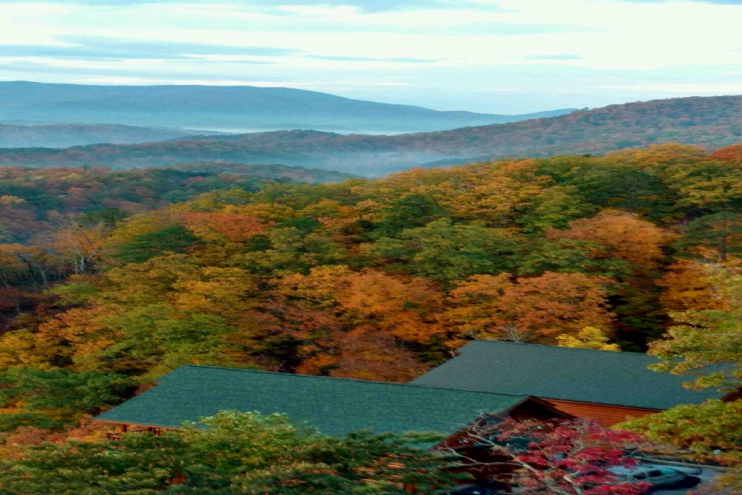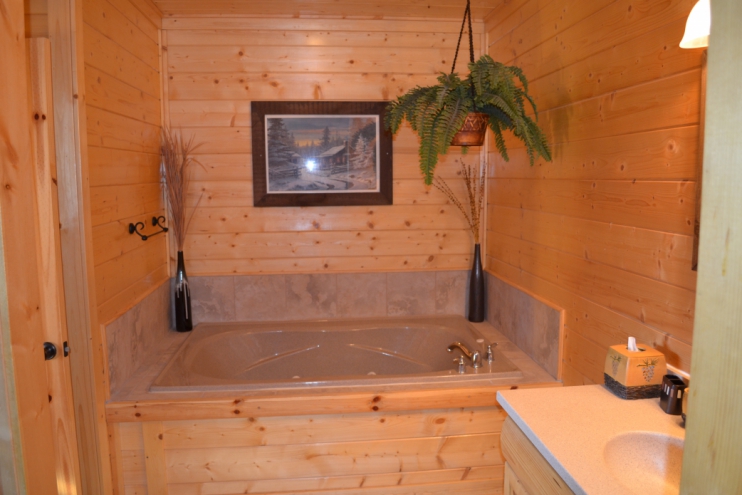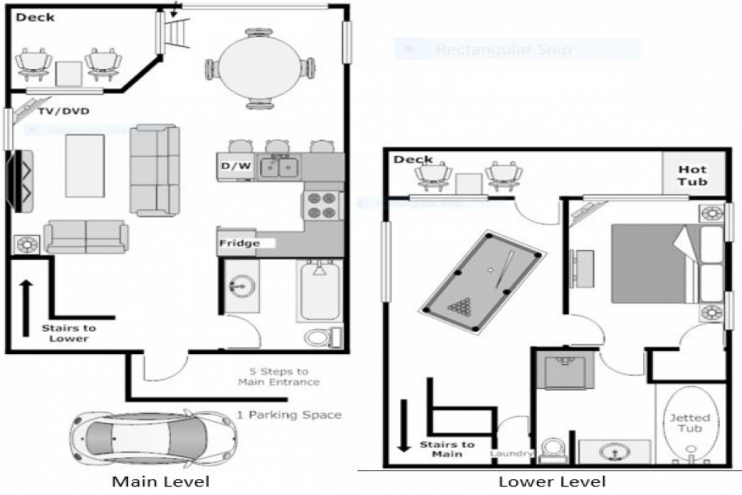 ---
336-705-2143


08:00 am - 08:00 pm
Eastern Time Zone (UTC-05:00)
---
Beds:

1

Baths:

2

Sleeps:

6
Type:

Cabin

Reviews:

5

Views:

477
Last Updated: 1/22/2018

Description
---
Luxury 1 Bedroom - SPECTACULAR View of Great Smoky Mountains! THIS IS IT!
When you go to the beach, do you like an "Oceanfront" place? Well this cabin is "Mountainfront" !!
This luxury 1 bedroom log cabin has spectacular mountain views! The large fully equipped kitchen is ideal for those that want to cook that special meal!
The kitchen opens to the living room with NEW comfortable leather sofas, a NEW curved big screen TV and Bose Surround sound stereo. The Dining Room is open to the kitchen with huge windows overlooking the Great Smoky Mountains National Park! Cushioned out door furniture on the deck allow you to relax and take in the views.
The lower level has a pool table, an arcade game, a large master bedroom with king size bed and private bath.
The lower deck has a hot tub, relax after an exciting day of sightseeing and take in the Mountain Views!
---
Season
From/To
Nightly
Weekend
Weekly
Monthly
Min Nights
March
03/01/2018
03/22/2018
$150.00
$170.00
$1,090.00
--
2
Easter 2018
03/23/2018
04/07/2018
$160.00
$180.00
$1,169.00
--
2
April
04/08/2018
04/30/2018
$150.00
$170.00
$1,090.00
--
2
May
05/01/2018
05/24/2018
$140.00
$175.00
$1,050.00
--
2
June
05/25/2018
06/28/2018
$210.00
$230.00
$1,510.00
--
2
Independence Week 2018
06/29/2018
07/08/2018
$250.00
$275.00
$1,800.00
--
3
July
07/09/2018
08/04/2018
$225.00
$250.00
$1,625.00
--
2
August
08/05/2018
09/03/2018
$195.00
$215.00
$1,405.00
--
2
September
09/04/2018
09/30/2018
$150.00
$170.00
$1,090.00
--
2
October
10/01/2018
10/31/2018
$200.00
$230.00
$1,460.00
--
2
November
11/01/2018
11/15/2018
$190.00
$220.00
$1,390.00
--
2
Pre-Thanksgiving
11/15/2018
11/20/2018
$200.00
$230.00
$1,460.00
--
2
Thanksgiving
11/21/2018
11/25/2018
$270.00
$270.00
$1,600.00
--
3
Early December
11/26/2018
12/13/2018
$130.00
$180.00
$1,010.00
--
2
Pre-Christmas
12/14/2018
12/20/2018
$150.00
$190.00
$1,130.00
--
2
Christmas
12/21/2018
12/26/2018
$285.00
$285.00
$1,675.00
--
3
New Years Eve
12/27/2018
12/31/2018
$150.00
$300.00
$1,695.00
--
3
January
01/01/2019
01/31/2019
$125.00
$155.00
$935.00
--
2
February
02/01/2019
02/28/2019
$120.00
$150.00
$900.00
--
2
State, Local and Lodging Taxes:
12.750%
Discounts!:
Get a weekly Discount!
For a 7 night stay enter the coupon code as follows: "mmm7N" where mmm is the month of your stay.
Example: Mar7N, Apr7N, May7N . . .
NOTE: Rates and minimum stay may be higher for Holidays...(Valentines Day, Presidents Day, MLK Day, Labor Day, Memorial Day)
---
General
Linens Included
No Pets
No Smoking
Telephone
Home
Bedroom Setup
Bedroom Extras
Alarm Clock
Private Bathroom
Carpet
TV
Satellite
Ceiling Fans
Fireplace
Bathroom
Full Bath
Whirlpool/Jacuzzi Bathtub
Shower
Attached
Dining Room
Dining Table
Eat in Counter
Formal Dining Room
Kitchen
Blender
Breakfast Bar
Can Opener
Coffee Maker
Dishes
Dishwasher
Fully Equipped Kitchen
Garbage
Gourmet Kitchen
Ice Maker
Microwave
Mixer
Oven
Pots and Pans
Refrigerator
Stove
Toaster
Utensils
Crock Pot
Keurig
Laundry
Washer/Dryer
Linens
Towels
Barbecue - Grills
Heating and Cooling Comfort
Ceiling Fans
Central Air Conditioning
Central Heating
Fireplace
Entertainment
Big Screen TV
CD Player
Stereo
Television
TV/DVD
DVD/VCR
Smart T.V.
Netflix
Games
Home Office
High Speed Internet Access
Wireless Internet Access
Outside Living
Balcony
Hot Tub/Heated Spa
Deck
Porch
Porch Furniture
Mountain Views
Parking
---
Places To Eat
Sugarlands Distilling Company
Tennessee Homemade Wines
Ole Smoky Tennessee Moonshine
Doc Collier Moonshine Distillery
Sugarland Cellars Winery
Ole Smoky Distillery - Barrelhouse
Bootleggers Homemade Wine
Smoky Mountain Winery
Old Smokey Distillery
Mountain Cheese and Nuts
EAT Food Tour
Crocketts Breakfast Camp
Taste Of Italy
Big Daddy's Pizzeria
Log Cabin Pancake House
Cherokee Grill
Flapjack's Pancake Cabin
New Orleans Sandwich Company
Pancake Pantry
Bennett's Pit Bar-B-Que
Flapjack's Pancake Cabin
Alamo Steakhouse & Saloon
Wild Plum Tea Room
Three Jimmy's Good Time Eatery
Crystelle Creek Restaurant and Grill
Smoky Mountain Brewery
Calhoun's Gatlinburg
Tom & Earl's Back Alley Grill
Smoky Mountain Trout House
Best Italian Cafe & Pizzeria
Texas Roadhouse
No Way Jose's
Blaine's Grill & Bar
Flapjacks Pancake Cabin
Johnny Rockets
Mellow Mushroom
The Park Grill
Bubba Gump Shrimp
Atrium Pancakes
The Park Grill
Five Guys
Loco Burro Fresh Mex Cantina
Melting Pot
Peddler Steakhouse
Buckhorn Inn
Pigeon Forge Deli
The Pottery House Cafe and Grille
Smokies Cuban Cafe
Sawyer's Farmhouse Restaurant
Poynor's Pommes Frites
Local Goat New American Restaurant
The Old Mill Restaurant
Blue Moose Burgers & Wings
Mel's Classic Diner
Boss Hogg's BBQ Shack
Huck Finn's Catfish
Big Daddy's Pizzeria
Alamo Steakhouse
Corky's BBQ
Cracker Barrel
Texas Roadhouse
Firehouse Subs
Johnny Casino's
Bullfish Grill
Five Guys
Calhoun's Pigeon Forge
Timberwood Grill
J.T. Hannah's Kitchen
Mama's Farmhouse
Mellow Mushroom
Bennett's Pit Bar-B-Que
Paula Deen's Family Kitchen
Golden Corral
Smoky Mountain Brewery & Restaurant
Captain Jim's Seafood Buffet
Cheddar's
Harpoon Harry's Crab House
Reagan's House of Pancakes
Cielito Lindo Mexican Grill
Margaritaville Pigeon Forge
Red Rooster Pancake House
Cracker Barrel
Hard Rock Cafe
No Way Jose's Cantina
Lil Black Bear Cafe
Little Tokyo
Mcalisters Deli
Aunt Granny's All You Can Eat Buffet
Smoky Mountain Pancake House
TGI Fridays
Song & Hearth
The DM Pantry
IHOP
Frizzle Chicken Pancake Coop
Emiliano's Mexican Grill
El Ranchero Loco
Paula Deen's The Bag Lady
Smoky's Pancake Cabin
Biblical Times Dinner Theater
Mama's Farmhouse
Marco's Pizza
Kinkaku Japanese Steak House
Chubby's Deli
English Mountain Trout Farm & Grill
PawPaw's Kajun Kitchen
The Apple Barn and Cider Mill
The Chop House
Applewood Farmhouse Restaurant
Thai Basil
Flapjacks Pancake Cabin
Applewood Farmhouse Grill
Elvira's Cafe
Big Daddy's Pizzeria
Holston's Kitchen
Quaker Steak & Lube
Local Goat
Texas Roadhouse
Two Brothers Italian Restaurant
Nino's Pizzeria & Eatery
Joe's Crab Shack
Cheezy Steaks
Pigeon Forge Deli
The Diner
Fuddruckers
Cracker Barrel
Olive Garden
Poynor's Pommes Frites
Hickory Cabin Seasoning
Hillbilly's
Bullfish Grill
Hard Rock Cafe
Bluff's
Gondolier Italian Restaurant
Things To Do and See
Great Smoky National Park
Dollywood
The Old Mill
Gatlinburg Mountain Coaster
Rowdy Bear Mountain Coaster
Ober Gatlinburg Amusement Park & Ski Area
Wild Bear Falls Waterpark
Amazing Mirror Maze
Ripley's Haunted Adventure
Ripley's Moving Theater
Ripley's Marvelous Mirror Maze
Earthquake - The Ride
Amazing Mirror Maze
Earthquake - The Ride
Mountain Life Adventure Rentals
Gatlinburg Trail
Ripley's Aquarium of the Smokies
Herbert Holt Park
Gatlinburg Scenic Overlook
Gatlinburg Space Needle
Historic Ogle Log Cabin
The Village Shops
Mountain Mall
Covered Bridge in the Glades
Riverbend Mall
The Old Mill
Christmas Place
Stages West
Three Bears General Store
Pigeon Forge Gem Mine
Smoky Mountain Cat House
Iron Mountain Metal Craft
Thomas Kinkade Gallery
The Old Mill Candy Kitchen
Sandman's Workshop
Pigeon River Pottery
Try My Nuts Company
Pigeon Forge Factory Outlet
Antique Mall
Man Cave Metal
The Country Barn
Titanic Museum
Parrot Mountain & Gardens
Smoky Mountain Alpine Coaster
Dollywood
The Island in Pigeon Forge
Rockin' Raceway Arcade
Ole Smoky Tennessee Moonshine
The Coaster at Goats on the Roof
Big Top Arcade
Arcade City
Country Tonite Theatre
Old Forge Distillery
Outdoor Gravity Park
The Escape Game
Trapped Escape
Kryptology Escape
The Track Family Fun Park
Jurassic Jungle Boat Ride
Fun Stop
MagiQuest
Tomb Egyptian Adventure
Fun Stop
Zipline & Aerial Adventure Parks
Tennessee Legend Distillery
Smoky Mountain Deer Farm
Hillside Winery
Tanger Outlets Sevierville
NASCAR SpeedPark
Forbidden Caverns
Rainforest Adventures
Hike The Smokys
Foxfire Mountain Adventures
Ripley's Old MacDonald's Farm Mini Golf
Foxfire Mountain Swinging Bridge
River Romp
Wilderness at the Smokies
Tennessee Museum of Aviation
Scenic Helicopter Tours
Sevierville Park
Boot Factory Outlet
Smoky Mountain Helicopters
Sevier County Choppers Helicopter Tours
---

Tony and Inna
01/28/2018
The BEST place to stay in Pigeon Forge!
Review #21235617 "Luxury 1 Bedroom - SPECTACULAR View of Great Smoky Mountains! THIS IS IT!"
The BEST place to stay in Pigeon Forge!
★ ★ ★ ★ ★
My wife and I decided to go to Pigeon Forge for our honeymoon and we couldn't have picked a better cabin!!
We arrived just before dark witch was the perfect time to see the astounding view this cabin has!! The door lock was pretty cool and easy to use. The cabin was very clean. We were amazed at all the kitchen supplies that are available to use and the big TV with surround sound was nice to! The hot tub was very relaxing and the best place to be to watch the snow fall! The light switches are labeled for what they turn on /off witch was helpful. When arriving to the cabin at night, there is a motion censor light that turns on when you pull up that was nice. The Owners were great! They were very helpful and available when we had questions. The view really cannot be captured by the lens of a camera. You must see it to believe it. Watching the snow on the mountains with the sun making the shadows was amazing!! I will most defiantly recommend this cabin. It was so peaceful and relaxing! It really exceeded our expectations and not sure if anything could have made our stay any better. I cant wait to come back again!
Thank you so much Jerry and Mary for sharing you cabin with us!
Date of arrival
January 28, 2018

Audrey
02/15/2018
Beautiful Cabin with an amazing view
Beautiful Cabin with an amazing view
★ ★ ★ ★ ★
We recently stayed at the cabin for Presidents Day Weekend, and it was a wonderful experience. The location was phenomenal, secluded enough that we were up in the woods with a great view, but close enough to town that we had many dining options and fun things to do when we wanted to get out. The cabin is extremely charming and all the detail inside really makes you feel at home in the mountains. We had so much fun playing pool and using the arcade game downstairs before hopping into the hot tub to warm up. Sitting in the hot tub and watching the sunset was an amazing experience! The cabin was great and had everything we needed for a memorable experience. The owners are wonderful and extremely helpful. We look forward to coming back in the future.
Dayne
11/21/2017
The sunrise was unforgettable!
The owners have thought of everything. Our cabin stay was amazing. Truthfully it was one of our best vacations ever. The cabin is nestled up on the mountain and it features breath taking views. Yet it was still close enough to venture out to many attractions. We went horse back riding, hiking up to Laurel Falls waterfall, shopping at the mall and enjoyed a great dinner comedy at the Hatfield and McCoy show. We enjoyed it and cant wait to go back again. Thank you for making everything so easy for us.
Stephen
11/14/2017
Just What The Doctor Ordered
This was a 2nd honeymoon kinda trip. We needed a break from Key West after Hurricane Irma and this was it. First of all, the cabin looks like the pictures. No surprises. My wife and I looked at several other properties from " cheaper" websites while we were there (already planning a second trip), and none of them looked like the photos. So be careful. Secondly, this cabin is in a nice subdivision with paved roads and flat parking. That will be more important than you know, once you're there. The views are spectacular. Lastly, the owners are great people and great communicators. They let us reschedule our trip at the last minute because we were dealing with Hurricane Irma in September even at a possible loss of vacancy to them. We would have no problems what so ever to stay here again. Our only problem is, we need a bigger cabin because we've bragged up our trip so much that the whole family wants to come.
Sunni
12/01/2017
Exceeded Our Expectations by Far!
Amazing cabin & views! ❤️ I cried when i first stepped out onto the porch to that gorgeous panoramic view. Close to pigeon forge & gatlinburg! The cabin was so cozy and we loved the BIG stuffed bear that someone left there. Brought a smile to our face... we even took a picture with it. Haha!! This was our best stay in the smokies yet!! 3rd time to visit. We will definitely be back!
Gerald and Mary Piela's Reply:
Thanks for letting us know we exceeded your expectations! The view is so beautiful, and the location is very convenient! We appreciate your review!