Mountain Serenity 3 Bdr Sleeps 6 Fire Pit!, Gatlinburg, Tennessee Cabin Rental by Owner
Riversong, Gatlinburg Vacation Rental Cabin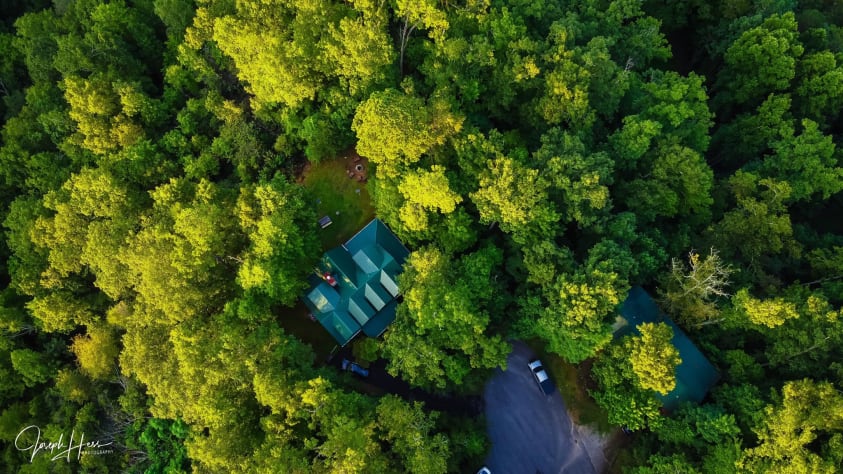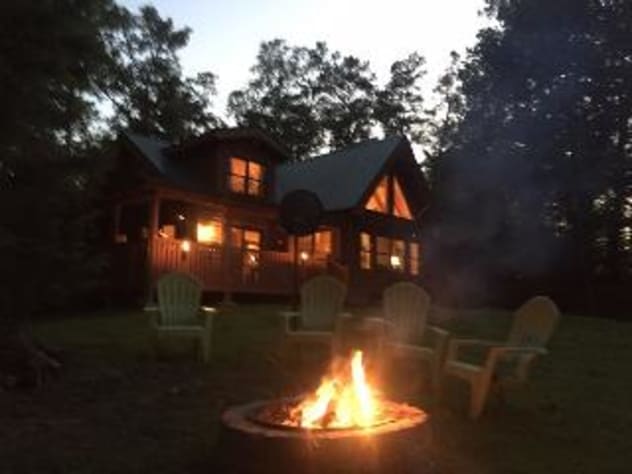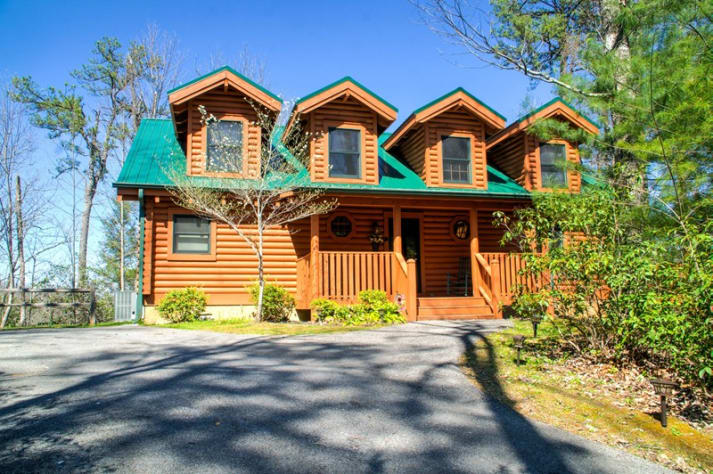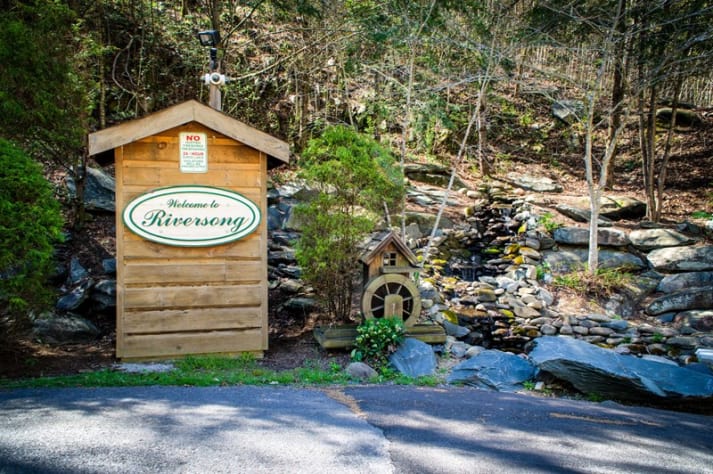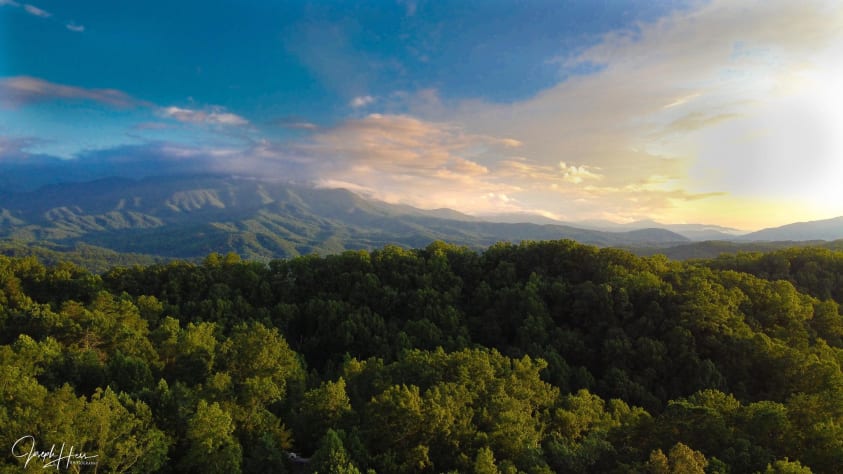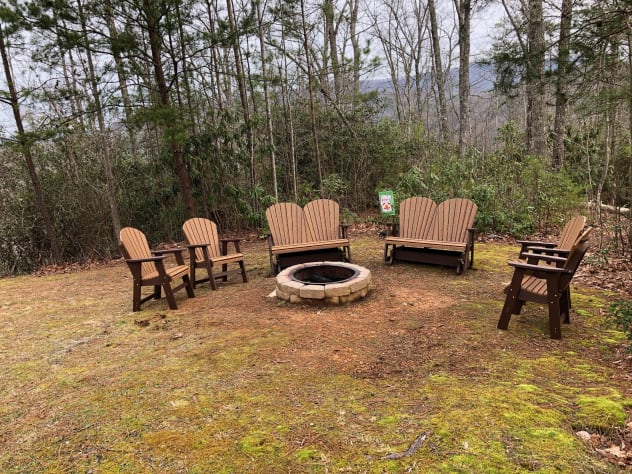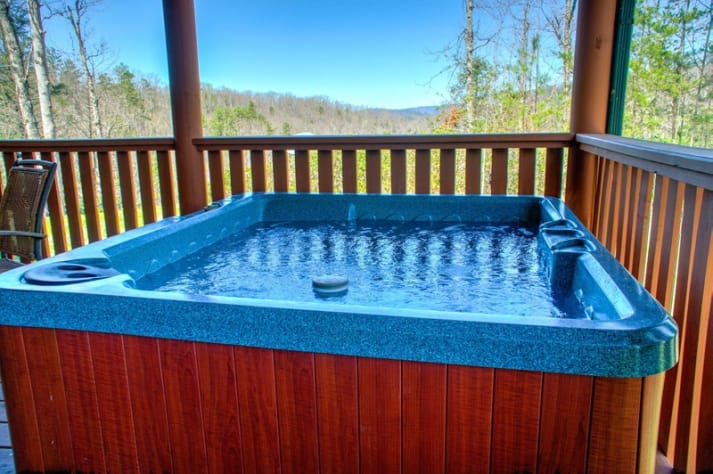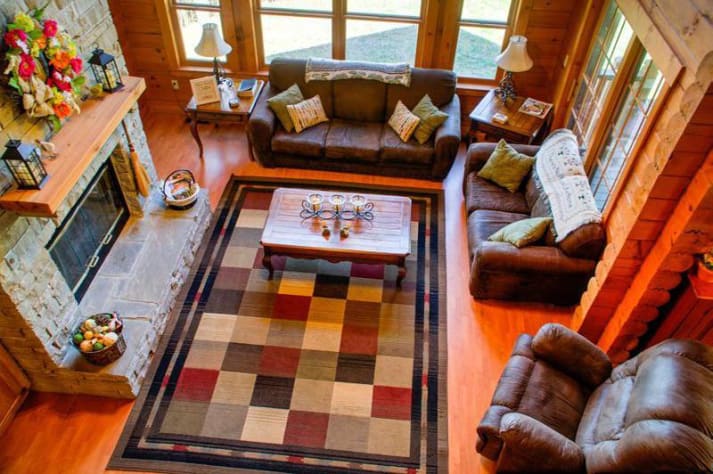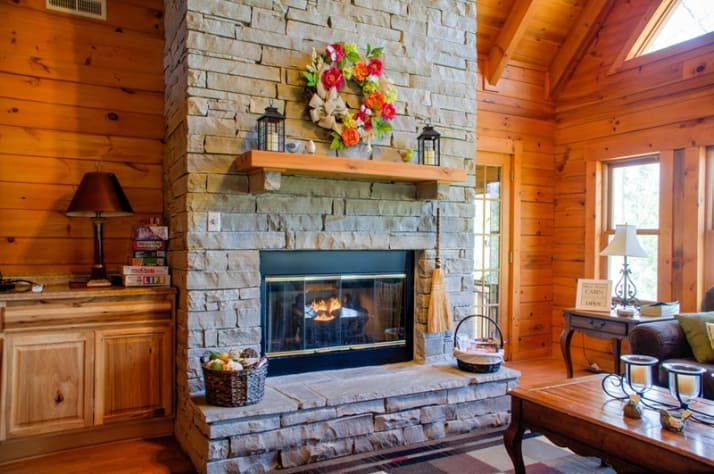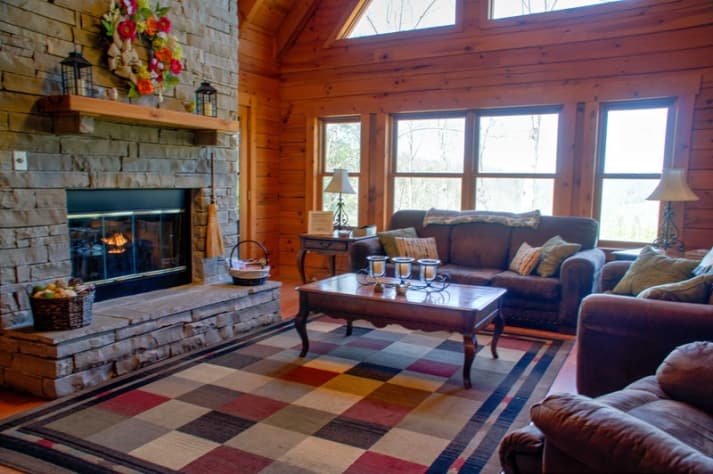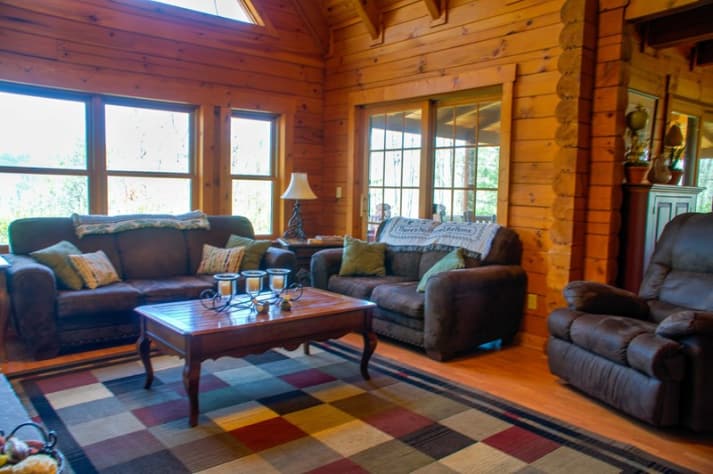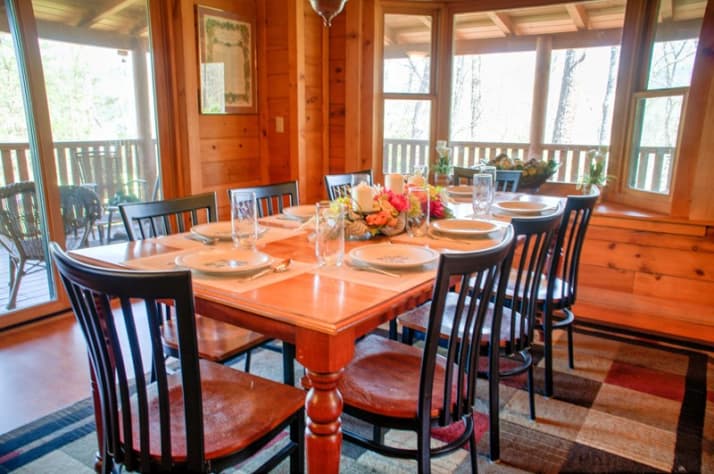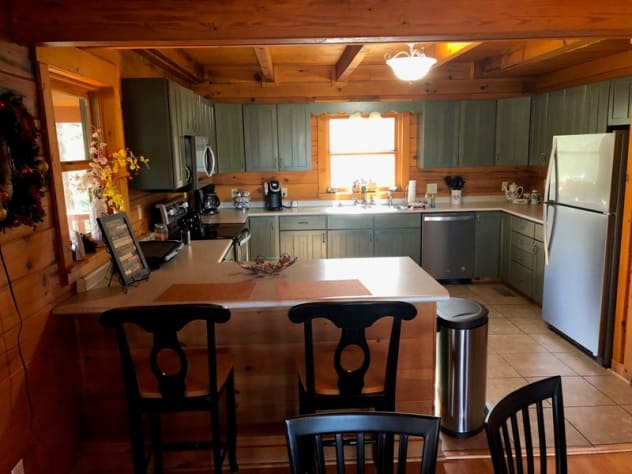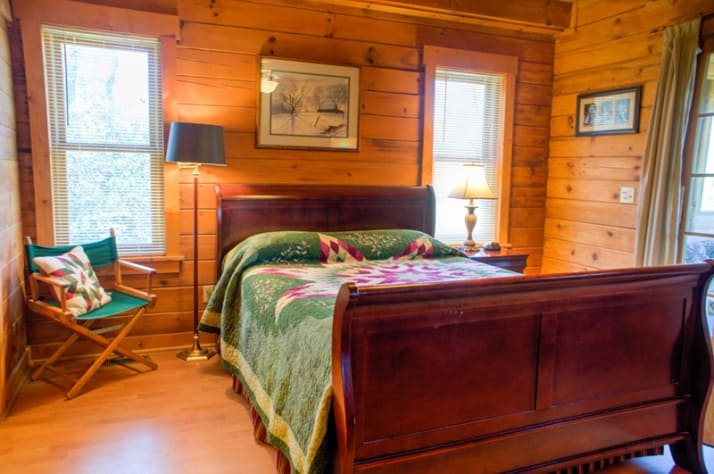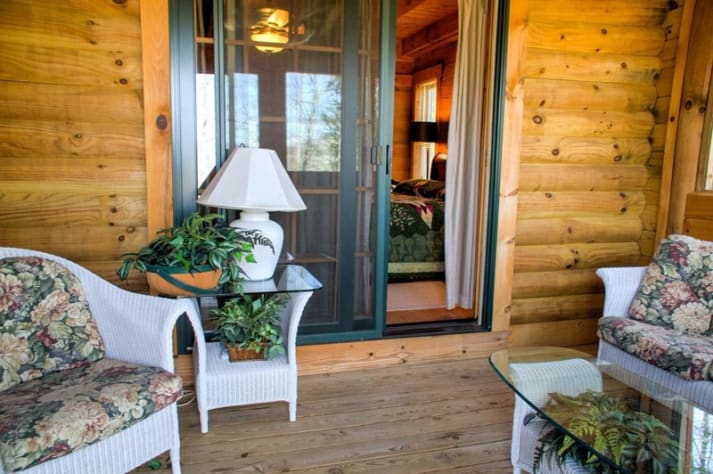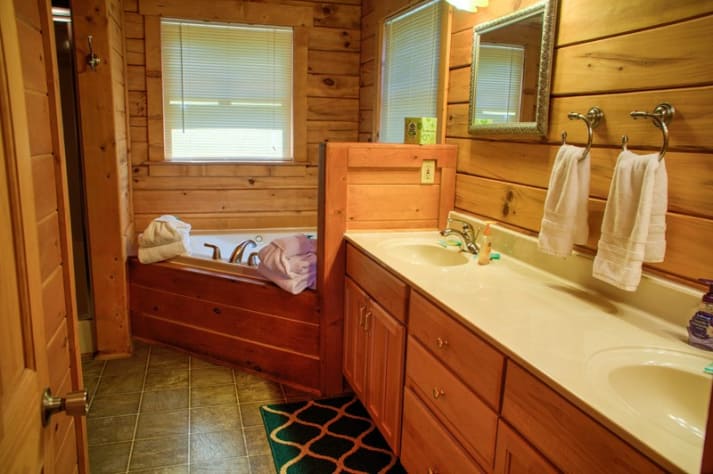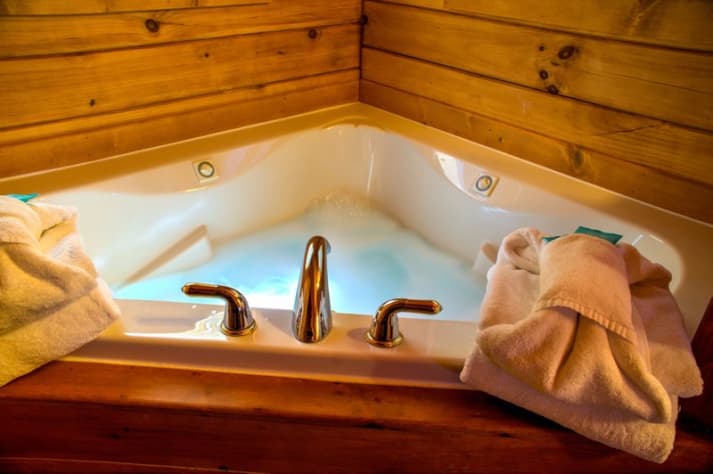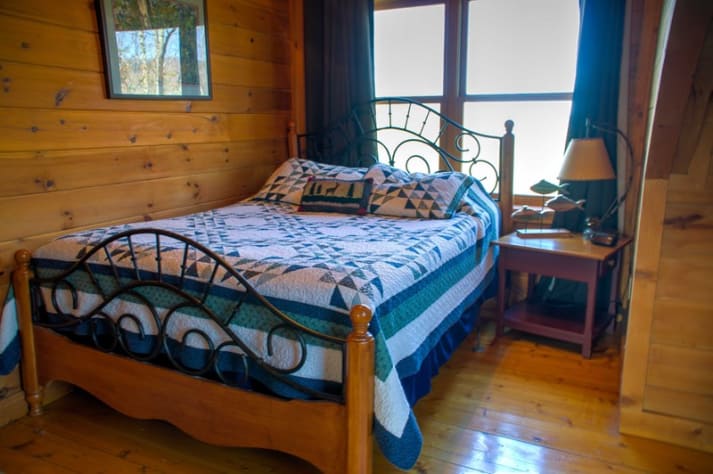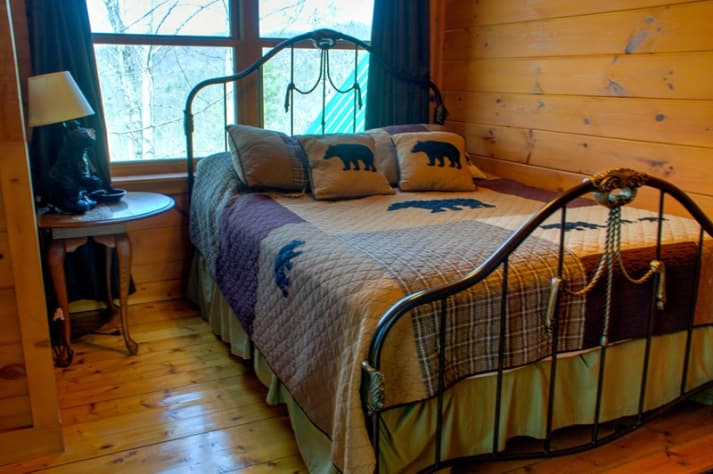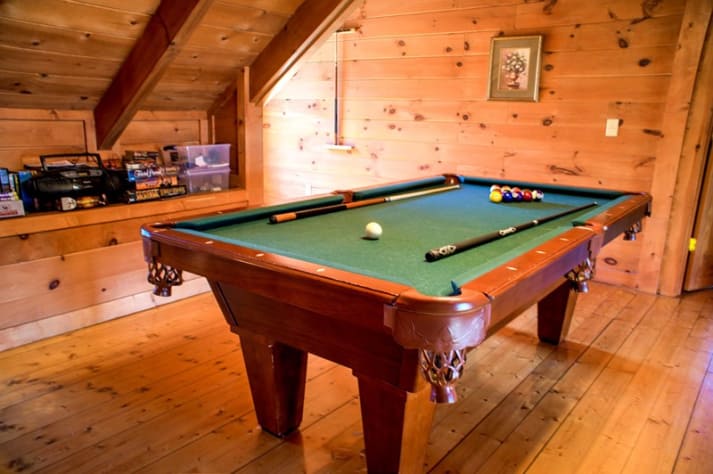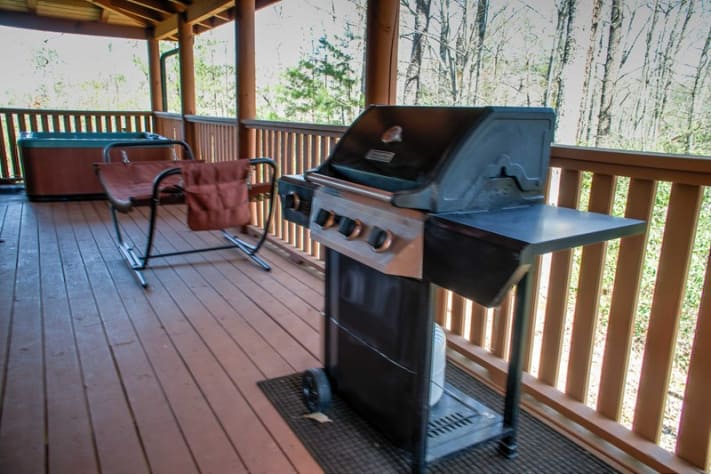 HOLIDAY SPECIAL RATE . $200/weeknights $225/weekends SLEEPS 6!!
Original Price $225.00
Deal Price $200.00
Peaceful & Private FIRE PIT. HOT TUB, GAS FIREPLACE, JACUZZI, etc. BOOK TODAY!!!
Validity: 11/30/2022 - 12/31/2022
---
---
Beds:

3

Baths:

3½

Sleeps:

6
Type:

Cabin

Reviews:

50

Views:

70819
Last Updated: 11/2/2022

Description
---
Private 3 bdr Mountain Serenity Sleeps 6-8 - Gatlinburg, TN
Welcome to Mountain Serenity!! Our authentic log home offers a beautiful, peaceful, private property, yet minutes from everything. This 3 bedroom 3.5 bath home provided relaxing accommodations as well as majestic mountain views. It is conveniently located only 8 miles from downtown Gatlinburg, 6 miles from the Arts & Crafts District and 12 miles to the Great Smoky Mountain National Park. It will surpass your expectations for your Gatlinburg vacation and provide everything you need plus so much more for example, fireplace, hot tub, screened in porch off the Master and a fire pit in the backyard. And for all of you fishermen, the cabin is only 1/3 of a mile from the Little Pigeon River, which provides amazing Trout fishing.

Bedrooms: Sleeps 6 There are 3 bedrooms. The main bedroom is on the first floor with a comfortable queen size bed and an attached bathroom. Enjoy the TV with the DVD or VCR in the comfort of the main bedroom. The bath has a large jacuzzi tub and a walk in shower.

Bedroom 2 and 3 are upstairs. Each has a Queen bed and an attached bathroom.

Bathrooms: This cabin 3 and half baths. All 3 Queen bedrooms have an attached bathroom. There is a half bath on the first floor.

Kitchen/Dining Room: The large open kitchen is fully stocked for all your cooking needs. There are 2 stool, at the kitchen island bar, or enjoy the comfortable dining table with seating for 8.

Family Room: The family room has vaulted ceilings and a private mountain view. Enjoy the gas fireplace on those cool nights during the winter. Or, watch a favorite show using our satellite system or a favorite movie. A pool table in the loft above can be seen from the family room.

Screened-in porch: The comfortable wicker furniture is the perfect place to relax after walking around downtown Gatlinburg. From the screened in porch you can look over the nice yard, a rarity in the Gatlinburg area. You can also access the walk around deck to the rest of the cabin.

WIFI is available for you to use while there.

Mountain View: View the mountains from inside the cabin through the huge glass windows, from the screeened-in porch off the Master Bedroom, from the hot tub on the outside deck or while sitting around the Fire Pit. Soak in the beautiful view year round from inside and out.
---
General
No Smoking
Vacuum
Online Booking
Managed By Owner
Bedroom Setup
Bedroom Extras
Alarm Clock
Private Bathroom
Hardwood
TV
Cable
Satellite
DVD
Ceiling Fans
Fireplace
Sitting
Deck
Bathroom
Full Bath
Whirlpool/Jacuzzi Bathtub
Attached
Dining Room
Dining Table
Eat in Counter
Kitchen
Blender
Can Opener
Coffee Maker
Dishes
Dishwasher
Disposal
Fully Equipped Kitchen
Garbage
Microwave
Mixer
Oven
Cookware/Pots and Pans
Refrigerator
Stove
Toaster
Utensils
Laundry
Washer/Dryer
Ironing Board
Linens
Towels
Barbecue - Grills
Heating and Cooling Comfort
Ceiling Fans
Central Air Conditioning
Central Heating
Fireplace
Entertainment
Fishing
Golf
Minature Golf
Television
TV/DVD
Home Office
Outside Living
Hot Tub/Heated Spa
Deck
Porch
Porch Furniture
Private Parking
Parking
Driveway
Parking for 4 cars
Pets
---
Places To Eat
Sugarlands Distilling Company
Tennessee Homemade Wines
Ole Smoky Tennessee Moonshine
Doc Collier Moonshine Distillery
Sugarland Cellars Winery
Ole Smoky Distillery - Barrelhouse
Bootleggers Homemade Wine
Smoky Mountain Winery
Old Smokey Distillery
Mountain Cheese and Nuts
EAT Food Tour
Crocketts Breakfast Camp
Taste Of Italy
Big Daddy's Pizzeria
Log Cabin Pancake House
Cherokee Grill
Flapjack's Pancake Cabin
New Orleans Sandwich Company
Pancake Pantry
Bennett's Pit Bar-B-Que
Flapjack's Pancake Cabin
Alamo Steakhouse & Saloon
Wild Plum Tea Room
Three Jimmy's Good Time Eatery
Crystelle Creek Restaurant and Grill
Smoky Mountain Brewery
Calhoun's Gatlinburg
Tom & Earl's Back Alley Grill
Smoky Mountain Trout House
Best Italian Cafe & Pizzeria
Texas Roadhouse
No Way Jose's
Blaine's Grill & Bar
Flapjacks Pancake Cabin
Johnny Rockets
Mellow Mushroom
The Park Grill
Bubba Gump Shrimp
Atrium Pancakes
The Park Grill
Five Guys
Loco Burro Fresh Mex Cantina
Melting Pot
Peddler Steakhouse
Buckhorn Inn
Pigeon Forge Deli
The Pottery House Cafe and Grille
Smokies Cuban Cafe
Sawyer's Farmhouse Restaurant
Poynor's Pommes Frites
Local Goat New American Restaurant
The Old Mill Restaurant
Blue Moose Burgers & Wings
Mel's Classic Diner
Boss Hogg's BBQ Shack
Huck Finn's Catfish
Big Daddy's Pizzeria
Alamo Steakhouse
Corky's BBQ
Cracker Barrel
Texas Roadhouse
Firehouse Subs
Johnny Casino's
Bullfish Grill
Five Guys
Calhoun's Pigeon Forge
Timberwood Grill
J.T. Hannah's Kitchen
Mama's Farmhouse
Mellow Mushroom
Bennett's Pit Bar-B-Que
Paula Deen's Family Kitchen
Golden Corral
Smoky Mountain Brewery & Restaurant
Captain Jim's Seafood Buffet
Cheddar's
Harpoon Harry's Crab House
Reagan's House of Pancakes
Cielito Lindo Mexican Grill
Margaritaville Pigeon Forge
Red Rooster Pancake House
Cracker Barrel
Hard Rock Cafe
No Way Jose's Cantina
Lil Black Bear Cafe
Little Tokyo
Mcalisters Deli
Aunt Granny's All You Can Eat Buffet
Smoky Mountain Pancake House
TGI Fridays
Song & Hearth
The DM Pantry
IHOP
Frizzle Chicken Pancake Coop
Emiliano's Mexican Grill
El Ranchero Loco
Paula Deen's The Bag Lady
Smoky's Pancake Cabin
Biblical Times Dinner Theater
Mama's Farmhouse
Marco's Pizza
Kinkaku Japanese Steak House
Chubby's Deli
English Mountain Trout Farm & Grill
PawPaw's Kajun Kitchen
The Apple Barn and Cider Mill
The Chop House
Applewood Farmhouse Restaurant
Thai Basil
Flapjacks Pancake Cabin
Applewood Farmhouse Grill
Elvira's Cafe
Big Daddy's Pizzeria
Holston's Kitchen
Quaker Steak & Lube
Local Goat
Texas Roadhouse
Two Brothers Italian Restaurant
Nino's Pizzeria & Eatery
Joe's Crab Shack
Cheezy Steaks
Pigeon Forge Deli
The Diner
Fuddruckers
Cracker Barrel
Olive Garden
Poynor's Pommes Frites
Hickory Cabin Seasoning
Hillbilly's
Bullfish Grill
Hard Rock Cafe
Bluff's
Gondolier Italian Restaurant
Bush's Family Cafe
Taste of Dandridge
Piezanos Italian Dining
Angelo's At the Point
Captain's Galley
Perkins Restaurant & Bakery
Indian Creek Market and Deli
El Toro Mexican Restaurant
Lakeview Grill & Baits
Owens Restaurant
Tinsley-Bible
Cowboys on the Water
Southern Charm Kitchen
Owens Restaurant
Pizza Plus
Shoney's
Chester's
Long John Silver's
Point Marina Grill
Hardee's
La Parilla Mexican Restaurant
Joey's House of Pizza
Five Points Pizza
Monell's Dining & Catering
Etch Restaurant
Mas Tacos
Skull's Rainbow Room
bartaco 12 South
Chauhan Ale and Masala House
DeSano Pizza
Mission BBQ
The Stillery
Kayne Prime
Hattie B's Hot Chicken
The Loveless Cafe
Hattie B's Hot Chicken
Robert's Western World
Darfons Restaurant & Lounge
McNamara's Irish Pub
5th and Taylor
Kitchen Notes
Arnold's Country Kitchen
The Pharmacy Burger Parlor
Urban Grub
Maggiano's Little Italy
The Bluebird Cafe
Rodizio Grill
Bakersfield
The Wild Cow Vegetarian
Peg Leg Porker BBQ
The Southern
Barlines Downtown
Biscuit Love
Martin's BBQ
The Row Kitchen & Pub
Pancake Pantry
Edley's Bar B Que
Merchants Restaurant
Nudie's Honky Tonk
Puckett's Grocery and Restaurant
Jeff Ruby's Steakhouse
Bob's Steak & Chop House
417 Union
The Listening Room Cafe
Demos' Steak And Spaghetti House
Martin's Bar-B-Que Joint
Acme Feed & Seed
Adele's
Marche Artisan Foods
Frothy Monkey
Germantown Cafe
The Melting Pot
Jack's Bar-B-Que
Whiskey Kitchen
Tootsie's Orchid Lounge
Fido
Midtown Cafe
Pinewood Social
Rolf and Daughters
Saint Anejo
Opry Backstage Grill
The Patterson House
Old Hickory Steakhouse
Lockeland Table
Bubba Brew's Sports Bar & Grill
Jimmy's Place
Hickory Star Resort & Marina
Norris Landing Marina
Mountain Lake Marina
Shanghai Resort
Castaways Grill and Bar
The Tiki Club
La Fiesta Mexican Restaurant
Coal Creek Smokehouse BBQ
Rickard Ridge BBQ
El Pueblito
Charley's Pizza Parlor
McDonald's
Golden Girls Restaurant
Glenn's Pizza & Grill
Powell Valley Resort
Gondolier Restaurant
La Sierra Mexican Restaurant
Fox's Diner
Dale Hollow Lake State Resort
Mike's Landing Restaurant
Pier 42 Restaurant
Dale Hollow 1 Stop BBQ
Mitchell Creek Marina
Cedar Hill Restaurant
Wisdom Resort
Farm House Restaurant
Ollie's Place
The Fork
Things To Do and See
Great Smoky National Park
Dollywood
Gatlinburg Mountain Coaster
Gatlinburg Trail
Ripley's Aquarium of the Smokies
Gatlinburg Space Needle
Pigeon Forge Gem Mine
Pigeon River Pottery
Titanic Museum
Wilderness at the Smokies
Dollywood Theme Park
---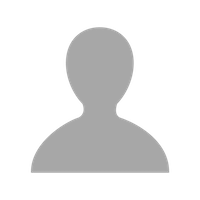 Vicky
10/13/2022
Friends Vacation with AMAZING views
We had an Amazing time. The cabin is secluded but still close to everything. The kitchen was fully stocked with every single thing you could need, including a waffle maker!!! It was decorated for the fall season which only added to the beauty of the leaves changing. You cannot get a better view of the mountains!! The fire pit was great for hanging out at night and the huge porch was the perfect spot to watch a bear wander the yard (we named him Milton) since he visited daily. A short drive to everything there is to do from Gatlinburg to Pigeon Forge and everything in between. We enjoyed the games left in the living room and even added a new one to the collection. A truly incredible location and vacation
Gail 's Reply:
Thank you so much. We are so pleased you enjoyed your stay. We welcome you back Soon!!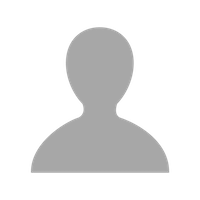 Seneca J
08/12/2022
Wonderful experience
We had such a wonderful time. The cabin was nice clean, organized and well maintained.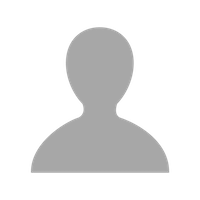 Marianne
06/06/2022
3 Very Satisfied Guests
I wanted to tell you how much we enjoyed our stay!! The beautiful views are breathtaking and the house itself was perfect. Thank you for helping us with any questions we had.
We are 3 very satisfied Guests!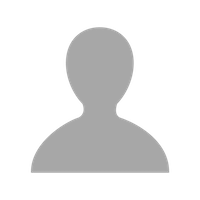 Nichole Sapp
04/21/2022
Loved It!
We couldn't have picked a better place to stay. This cabin had everything we could have asked for. The hot tub, the view, the jacuzzi tub, and it was close to town. I would definitely stay here again and again!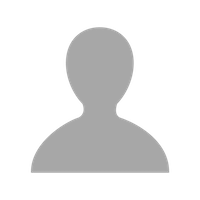 Jenny Lee
03/23/2022
Beautiful Cabin
Absolutely stunning cabin. The view of the mountain and most of all the cabin itself was perfect. The place was beyond my expectations and much better than the photos. We didn't want to leave! The kids wanted to just stay in and not go out to the mountains as they loved it so much!!! Thank you so much for letting us enjoy.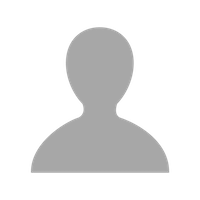 Cheryl
02/04/2022
Wonderful
I just wanted to reach out & let you know that we had a wonderful time at your cabin this weekend! It was absolutely beautiful up there. Thank you so much for allowing us to enjoy it for a few days!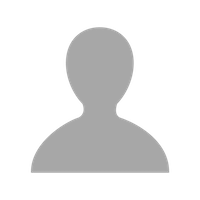 Raiman's
01/01/2022
Amazing Stay!!!
We had an absolutely amazing time!
Have a wonderful New Year and thank you, again, for a great place to stay!
The house is seriously amazing and we've traveled to a lot of countries and seen a lot of great things; TN and Mountain Serenity are at the TOP of our list! (Although we WANTED to have snow, this FL family is probably leaving at a good time after seeing the forecast LOL!) We hate to bring the nice weather home with us, but we have to. Our 21yo did say he may come move up if he can score a construction job!
We WILL be back! Pinky promise!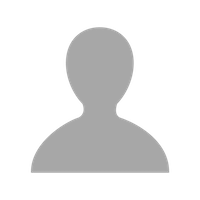 Beverly Hofsass
12/18/2021
No doubt, Mountain Serenity
We visited twice last year, already planning another visit. I think my favorite thing is the peace and quiet. The only thing you hear is the river. The kids love everything.
Gail 's Reply:
Thank you so much!! We welcome you back time and time again!!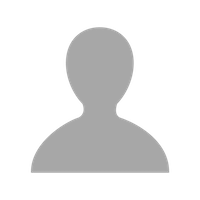 Beverly Hofsass
12/18/2021
No doubt, Mountain Serenity
We visited twice last year, already planning another visit. I think my favorite thing is the peace and quiet. The only thing you hear is the river. The kids love everything.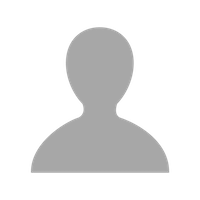 Stephanie Sheridan
10/18/2021
Another Great Visit
This is our second time at Gail's cabin. We live staying here. The cabin is close to everything yet tucked away far enough that you enjoy the peacefulness of the mountains. Thanks again!!
Gail 's Reply:
We are so pleased you enjoyed your stay and we welcome you back again SOON!!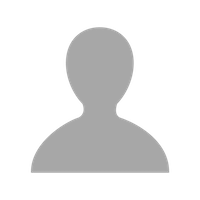 Michelle Arkwright
09/20/2021
Absolutely Beautiful!!!
Thank you so much for the opportunity to stay at Mountain Serenity!! The cabin is absolutely beautiful!!! It far exceeded anything I thought it would be. I only get to spend a week with my 2 sisters just once a year and this was an amazing cabin to spend with them. I hope we can return again sometime.
Gail 's Reply:
We are so happy you enjoyed your stay. We do hope you will come back soon!!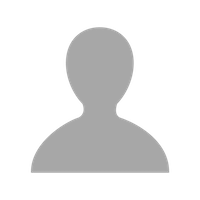 Kay S.
06/06/2021
Didn't want our vacation to end!!
Thank you for letting us stay at your cabin. We fell in love with your place the minute we walked in. It was amazing. We love the view. We had a great time. I hope we left it ok for you. Thanks again and I love to rent it again in the future . We didn't want our vacation to end.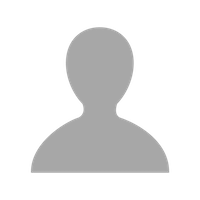 Tina Baker
04/21/2021
Amazing Cabin in the Woods
Both the cabin and location were perfect in every way. Absolutely loved our stay there and will definitely return in the future. We had to leave a day early due to an emergency and the owner was accommodating and understanding.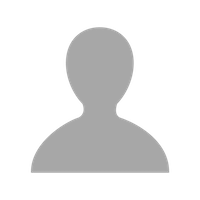 Lisa
04/05/2021
LOVED it!!
This was absolutely perfect for our family of 5! We enjoyed staying at the cabin as much as we did exploring the area. We looked forward to getting back and relaxing. The views were amazing and the area was quiet. We definitely plan to make this our yearly family trip.
Gail 's Reply:
We are so pleased you enjoyed your stay and we welcome you back soon!! Thank you Gail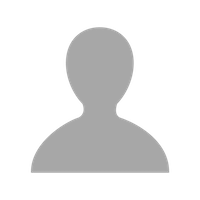 Lindsey
03/24/2021
We should have stayed longer!
What an amazing cabin! It has everything you need and more! The views are incredible -- the pictures truly don't do it justice! It is also the perfect location!! Wish we could have stayed longer!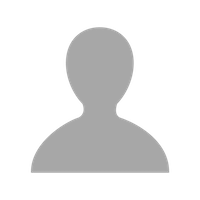 Jillian
03/20/2021
A piece of Heaven
This cabin exceeded all expectations!! The place was absolutely beautiful, well kept, and spacious. The outside was private and had INCREDIBLE views! The photos don't do it justice. We fell in love with this cabin and made memories to last a lifetime. We plan on returning to TN and can't imagine staying anywhere else. Huge shout out to Gail for being so kind, responsive, and helpful. We appreciate you!!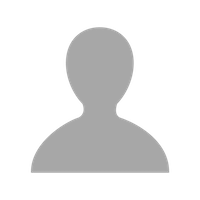 Beverly
03/14/2021
Could not have asked for more!!!!!!!!
We did not want leave. Already planning a trip back later in the year, and we know where we will stay????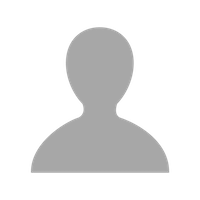 Angel
01/14/2021
Best cabin ever!!
Some friends and I (men/women 34-43 yrs old) stayed here for 3 nights and there's literally nothing I would change about this place! Amazing cabin, views, and amenities! There's a pool table, corn hole boards, board games, hot tub, jacuzzi bathtub, gas grill, beautiful porch and sunroom type area, fire pit w chairs. Anything you need to cook with is there for you. The pictures don't do the view justice. I normally like to stay at different places each time I visit, but I will definitely stay here again! Also, for those who like to go out....try Shamrock's in downtown Gatlinburg. We had the best time and it was so nice to feel "back to normal again". They closed at 1am.
Gail 's Reply:
Thank you so much. We are so pleased you enjoyed your stay and we welcome you back soon.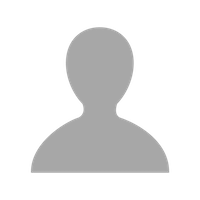 Karen Maynard
11/20/2020
Wonderful cabin
The cabin is beautiful and the location is great! Awesome views. Loved the firepit and porches. It is so peaceful. This is now my favorite cabin and i will definitely be back.
Gail 's Reply:
We are so pleased you enjoyed your stay. We welcome you back soon!!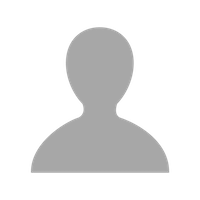 Saundra
11/18/2020
Very Beautiful Cabin!
We thoroughly enjoyed our stay there though. It is a very beautiful cabin.
Gail 's Reply:
We are so pleased you enjoyed your stay and we welcome you back soon!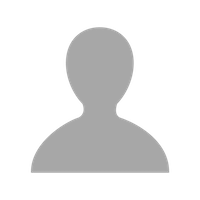 Yvonne
10/30/2020
Perfect Name Mountain Serenity
I just wanted to take time to reach out to you in reference to our stay at your lovely cabin, we absolutely loved it, the pictures did it no justice. We are anxious to stay there again that's the perfect name Mountain Serenity!
Gail 's Reply:
We are so pleased you enjoyed your stay and we welcome you back soon!!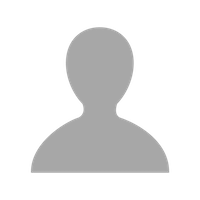 BECKY
10/05/2020
WE LOVED OUR STAY
THIS CABIN IS BEAUTIFUL. THE CABIN WAS ALL DECORATED FOR THE FALL SEASON. OUR HUSBANDS ENJOYED THE OUTSIDE FIRE PIT WHILE US WOMEN SHOPPED. IT WAS NICE THAT EACH BEDROOM HAD ITS ON BATHROOM. WE PLAN TO RETURN AGAIN NEXT FALL.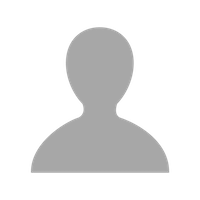 Joyce
09/29/2020
Everything was Perfect!!
we so wanted to let everyone know how pleased we were with Mountain Serenity.. and you!
Again thank you my dear for everything.. Everything was perfect. Looking forward to coming back.. in fact we have already talked about it..
Gail 's Reply:
Thank you so much. We are so pleased you enjoyed your stay and we welcome you back SOON!!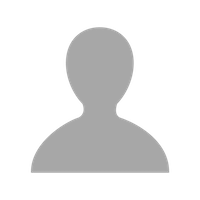 Dean Julien
09/17/2020
Absolutely amazing!
We loved the cabin, clean and taken care of. Absolutely breathtaking view from the back porch. We will be booking this one again next year!
Gail 's Reply:
Thank you so much for your review. We are thrilled you enjoyed your stay and we welcome you back soon!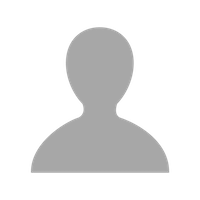 Annie
07/23/2020
Great Weekend Getaway!
We booked this cabin last minute for a long weekend with our kids and in-laws. It was a perfect place to get away for a few days!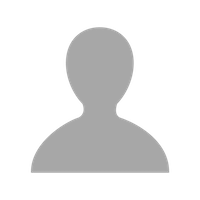 Keenan Nevils
07/19/2020
The Views
Your cabin was by far one of the best cabins we've stayed in. It's gorgeous. Nice and quiet. With plenty of space. The views from the back porch did not disappoint. We will be staying again soon . Thanks for sharing your cabin with us.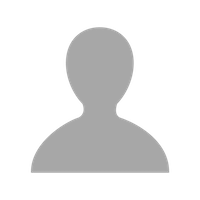 Keasha
07/15/2020
Awesome Experience
My family and I stayed 5 days and had a great experience! The cabin is beautiful and has everything you need for a nice vacation or get away, beautiful view, pool table, hot tub, fire pit, games ect, I have two older teenage boys who never got board! The cabin is secluded but only a short drive into town, and we had more than enough room for all of us. I would highly recommend this cabin and I'm sure we will rent again!
Gail 's Reply:
We are so pleased you enjoy your stay!! We welcome you back soon!!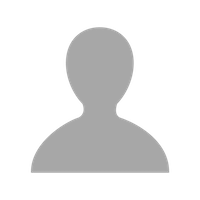 Rich and Cheryl Jones
05/08/2020
Mountain Serenity
Beautiful property and cabin! Had everything my family wanted and was plenty big for us. The property is secluded and not visible to other cabins. However, there are other cabins within just a couple of hundred yards so it is not a feeling of complete isolation. Our family enjoyed the hot tub, fire pit, and boardgames at the cabin. It is about a 20 min drive straight down into Gatlinburg. Gorgeous view, but not crazy steep drive to get to like some other cabins. Friendly owner and local contact as well. Would definitely stay here again!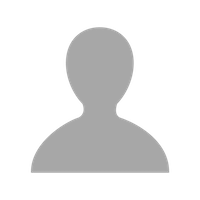 Tiffany Cremeens
12/20/2019
Wonderful Experience
What a beautiful cabin and amazing view. The cabin had everything you could think of except cold stuff ofcourse:) We absolutely loved our stay and the cabin but definitely alittle to far from town. Also make sure on the weather before you book, getting up to this cabin was crazy steep
Gail 's Reply:
Thank you so much. We are so pleased you enjoyed your stay and we welcome you back soon!!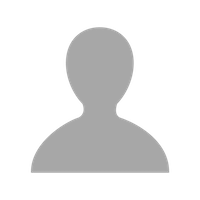 Alice Johnson
11/01/2019
Mountain Serenity ...lived up to it's name!
I booked this cabin just on the photos! I was hoping they would not disappoint. I brought my two daughters and their husbands up so we could go zip-lining in Gatlinburg. I have never rented a cabin before. Turns out they were spot on....and MORE! The views are just what I was hoping for and the cabin was just precious! Lots of room, big kitchen with so many extras, hot tub,games, and the pool table....all were terrific! We had the perfect get-away! Thank you for sharing your home with us, I would love to return one day.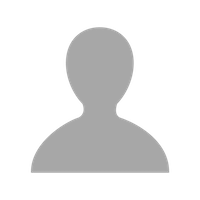 John Sterrett
10/09/2019
Spacious, Beautiful, Scenic, Quiet and Restful
We stayed in your cabin for 5 days prior to Columbus Day. What a gorgeous, cozy cabin! We loved everything about it. It was well maintained, clean, and full of nice amenities. The setting was very quiet and restful. We used the gas grill, the hot tub, and the fire pit for campfire and s'mores. The view from the back porch was beautiful, as well. Thanks for a memorable vacation! We would love to return on future a vacation later in October to see the fall colors!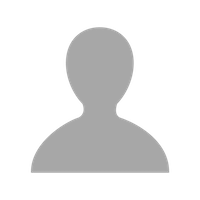 Amanda
08/29/2019
Great place to stay!
We stayed here for 5 nights over the Labor Day weekend. The cabin was gorgeous and clean. We had a slight issue the day we got there with the kitchen sink leaking but they were there within an hour to get it fixed! That's great customer service. I would recommend trimming the back a bit more, it is starting to block the view. It feels like you are in the middle of nowhere, but Gatlinburg is very close! I would definitely stay here again.
Gail 's Reply:
Thank you so much! We are so pleased you enjoyed your stay!! We strive to provide top notch service!! We welcome you back soon!!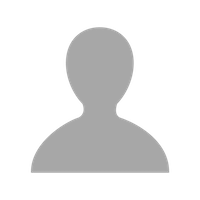 Jeff Matthews
07/22/2019
Beautiful Quiet and Peaceful
This place is as beautiful as the pictures! We had two adults, two teenagers and a 12 year old and it was very spacious! We enjoyed the hot tub almost every night! Beautiful view in the morning while we drank our coffee and enjoyed s'mores at night by the firepit. If we come back to Gatlinburg, we will for sure come back here!
Gail 's Reply:
We are so pleased you enjoyed your stay. We strive to provide a clean, comfortable and inviting cabin. We welcome you back soon. Thank you Gail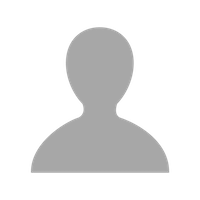 Christine Thompson
07/01/2019
Awesome view
The cabin was spacious enough for my family, we loved the view, we also seen a bear the first morning there, which was awesome we were hoping to see one. We also enjoyed the fire pit.. 7/1-7/5
Gail 's Reply:
We are so pleased you enjoyed your stay and we welcome you back soon!! Thank you Gail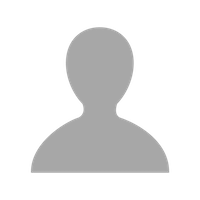 Crystal
06/16/2019
Look no further - book this baby now!
People, this cabin was literally the place of my dreams. The air conditioning was top notch. The beds were so comfy. The kitchen was stocked to the high hills with every single appliance you would need, and oh yeah, awesome mountain views. Want to get away from the hustle and bustle of the quaint town of Gatlinburg to be a little bit more in the mountains (but close enough to all the fun stuff?) well just do a little clicky clicky and book this place. *The only thing I'd recommend for an update is the couch and love seat. Not comfortable and sinks way down.* But...just picture yourself sitting on the back porch drinking your coffee as the sun comes up over the mountains. That can be you! We had our 4 kids with us and they absolutely loved this place. Went in the hot tub every day - splishy splashy - fun fun fun!
Gail 's Reply:
Thank you so much we strive to provide a lovely cabin for our guests to enjoy. We welcome you back soon!!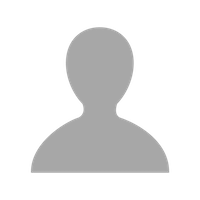 Elizabeth
09/16/2018
Beautiful
Gail, we loved staying at your beautiful cabin! We were thrilled with the fantastic view! We hope to do another girls get away next year and we would love to come back to your wonderful home! Thanks for a great cabin experience! - Elizabeth
Gail 's Reply:
We are thrilled you enjoyed your stay. We welcome you back Soon!!! Thank you so much!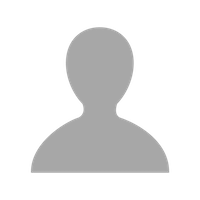 Amanda
08/29/2018
Lives up to its name! Serene!
Lives up to its name! Serene!
Left on Aug 28, 2018 for a stay in Aug 2018
Thouroughly enjoyed our stay at Mountain Serenity. The fire pit was outfitted with comfortable chairs and the gorgeous views made for an amazing backdrop. The covered porches were so comfy and the perfect location for morning coffee or late night talks. Also enjoyed the indoor gas fireplace that was so easy to use! The cabin really lends it self to providing spaces for respite. Everything you need and more all in one place! Would definitely return!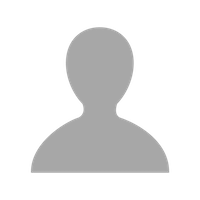 Mary
08/28/2018
Great cabin!!!
Franklin, Tennessee
Great cabin!!
Left on Aug 28, 2018 for a stay in Aug 2018
Great cabin!! Cozy with a beautiful view. Lovely owners. The perfect weekend getaway. We will definitely be back!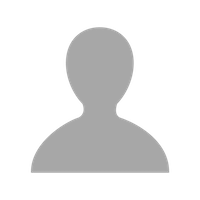 Aubrey
08/27/2018
Perfect Getaway!!!
Perfect getaway!
Left on Aug 27, 2018 for a stay in Aug 2018
This was my first time to the Gatlinburg area and absolutely loved this house! I was there for a girls weekend and we had the best time! Plenty of room, great kitchen area, comfy beds & gorgeous views out back! It was a great location and an easy drive to Dollywood and downtown Gatlinburg. Thanks for making our stay so enjoyable! Would love to come back again soon!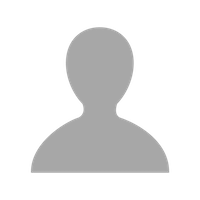 Terry
08/23/2018
Amazing family retreat with breathtaking views
Amazing family retreat with breathtaking views
Left on Aug 23, 2018 for a stay in Aug 2018
Beautiful family cabin with amazing views. The cabin is very well and thoughtfully equipped. Sandy deserves a special thank you for making our stay comfortable. We will be back.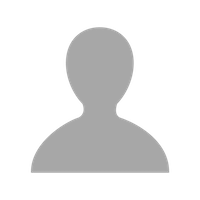 Dawn
08/12/2018
Very nice property in great location
Very nice property in great location
Left on Aug 15, 2018 for a stay in Aug 2018
Our family stayed here August 6th - 12th. Very nice property close to the Smokey Mountains and Gatlinburg. We liked the space and kitchen area to cook. Was secluded and had a great view, also saw a bear in the backyard and enjoyed a bonfire 1 evening. Would recommend property to others staying in this area.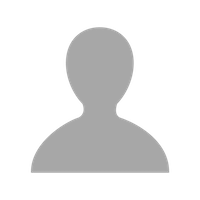 Beatrice
08/03/2018
Breathtaking
We had a great time and we all enjoyed our stay there. The home is breathtaking and we will keep you in mind for our next trip.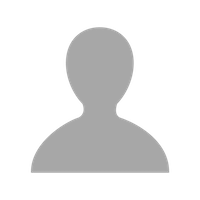 Leslie
02/08/2018
Amazing Views/Amazing Cabin
This cabin is so beautiful - inside and out. Very clean, the hot tub was amazing. It was comfortable and cozy. The views are beautiful - it even snowed a bit during my stay. It's a perfect location right between Gatlinburg and Pigeon Forge. Can't wait to visit again!!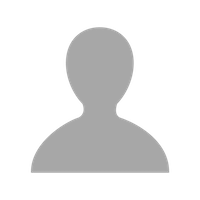 Lindsey
01/28/2018
Best Time - Get Away!
Several of us ladies got away for a weekend and we had the best time at Mountain Serenity! The views from the top of the mountain are incredible. We hardly left the cabin as there was so much to do there: hot tub, pool table, games, movies, view, fire pit, corn hole, hiking up and down the mountain..... so much! Plus, as a mom of a toddler, it was so nice to get away and have a comfortable night's sleep! We would all highly recommend this cabin for anyone wanting to get away!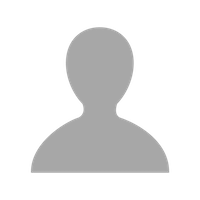 Katrice
01/11/2018
Cabin and location was Beautiful and Amazing!
Cabin and location was Beautiful and Amazing!
Left on Jan 16, 2018 for a stay in Jan 2018
This cabin is beautiful and amazing and has everything you need for a long weekend trip. The rooms are spacious with each having their own bathroom. Beds are Temperpedic like and made sleeping super comfy. The location to downtown was perfect and we also enjoyed grilling out one night after warming up in the hot tub. We will definitely be back to stay in this cabin next year for our annual trip!!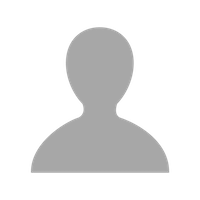 Andy
11/08/2017
We struck Gold!!
My wife and I struck gold last weekend! The fall peaked late this year and we were fortunate enough to enjoy the most beautiful spectrum of fall colors. Add warm weather in the 70's and you have a recipe for the most enjoyable and relaxing weekend that we have experienced in a decade. The cabin has a warm and welcoming appeal along with a breathtaking vista that centerpieces the view from the cozy back porch. We enjoyed S'mores by the fire pit on a moonlit night. Breathing in the clean fragrant night air while a nocturnal symphony played a soothing melodic lullaby. We saved money by staying in and cooking with brand new kitchen appliances and cookware. We woke up well rested thanks to the comfortable beds. This cabin is one of the best experiences that we have had. And the price is very reasonable considering the nice cabin, amenities, large backyard, the view, and good location.
Gail 's Reply:
Thank you we are so pleased you enjoyed your stay. We welcome you back again soon Gail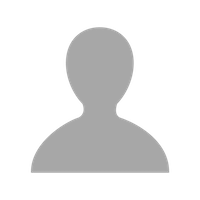 Ron
10/21/2017
Mountain Serenity Great Cabin
Great cabin , there were 4 of us we felt very much at home. Awesome location as well. We will definitely be coming back the owners were great to work with.. can\'t wait until next time .. thanks again ..
Gail 's Reply:
Thank you we are so pleased you enjoyed your stay. We welcome you back again soon Gail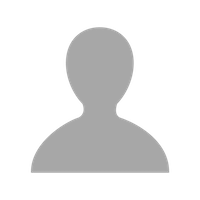 Jesse
08/06/2017
Total Package!!
This cabin had everything and more! So pleased that it lived up to the photos and previous reviews! The owners thought of everything when it comes to outfitting the cabin from hangers in the closets to smore forks for the fire pit. It was clean, cozy, comfortable, and quiet. Just what we needed. The view on the back porch was perfect. The location is far enough out to be quiet but close enough to run into town for dinner plus. We utilized most everything in the cabin. We cooked on the grill, used the hot tub, made smores at the pit, played games, played pool, and cooked meals in the kitchen. Kitchen was stocked with everything we needed and more. Laundry was also completed before we left. I'm so glad I canceled another reservation to book this cabin. With 3 bedrooms and each having their own bath made a huge difference in our trip. We could all shower at the same time and still had plenty of hot water. Reservation process was simple and easy. Nice people to deal with and answered all my questions quickly. Our kids (son 17 and daughter 24) have asked to come back to The Smoky's and stay in this same cabin. Thank you for sharing your home with us! We made priceless memories!