This blog contains a nice list and brief description of a few of our favorite vacation activities in Wears Valley. All pictures featured are SMBYO Wears Valley Cabin Rentals and are available!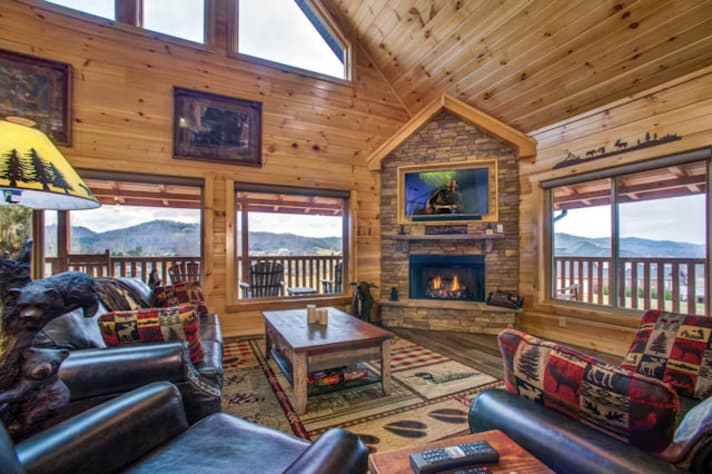 Welcome to the beautiful vacation destination of Wears Valley, located in Pigeon Forge, Tennessee. Wears Valley is in close proximity to countless fantastic attractions! Whether you're looking to explore the Smoky Mountains, relax and have a glass of moonshine, or shop til you drop, Wears Valley is the place for you! Please peruse the list below for a few of our favorite vacation activities to participate in, when in the area! (***special note: all pictures featured on this blog are available to rent on SMBYO! Links located at the bottom of the blog!!)
Visit the Friendly Falls Gem Mine
When you're in Wears Valley with little ones, stop by this family-accommodating fascination so they can filter for excellent pearls utilizing a filtering box and surging water. Children may even discover other little fortunes that the enchantment dwarves slipped into their basins of sediment. After a series of fortune chasing, look at the falling cascades, and get a couple of more gifts at the Stone Shop.
Tour the Tuckaleechee Caverns
Travel a couple of miles west to Townsend to travel into lovely natural hollows found profoundly under the Smokies. A guided visit past stalactites, stalagmites, and other cavern arrangements close with an excursion to the Enormous Stay with a roof in excess of 200 feet high and an amazing cascade.
Head to Wears Valley Zipline Adventures
Leave your Wears Valley cabin rental for an experience at this zip line park in Sevierville, offering almost 2 miles of zip lines with stunning perspectives on the mountains. In case you're truly looking for a rush, test your boldness on the 2,000-foot zip line that is arranged 275 feet over the woods floor. For significantly progressive fun, this neighborhood business additionally offers whitewater boating in Wears Valley.
Giddy-On-Up to Walton Creek Stables
See the lovely Smoky Mountains on horseback with a guided path ride from this nearby stable. Experienced guides leading you on your journey make certain that you have an awesome time riding past old moonshine stills and noteworthy wood lodges. After your ride, consider remaining to appreciate a Wild West Experience appear and a Southern-style grill supper.
After reading about all of these wonderful vacation activities, I'm sure you're wondering how to book a Wears Valley cabin rental. To book simply navigate to the Wears Valley cabin rentals located by going to Tennessee properties, then to the city of Pigeon Forge, then to the Wears Valley community page! (***Note: links to the Tennessee Cabin Rentals, Pigeon Forge Cabin Rentals, and the Wears Valley Cabin Rentals are located directly below this paragraph) Once you have selected which property you would like to stay in, click the email owner button on the property page and send an inquiry directly to the owner. Booking direct with the owner through SMBYO will save you a bundle by eliminating unnecessary booking fees charged by most other companies! (special thanks to https://www.tripping.com/guides for providing a clean and coherent site that allowed me to research the various activities listed above)
Wears Valley Cabin Rentals Pigeon Forge Cabin Rentals Tennessee Cabin Rentals