Ma Cook Lodge - Sharps Chapel, Norris Lake, Tennessee Cabin Rental by Owner
Norris Lake Private Properties, Norris Lake Vacation Rental Cabin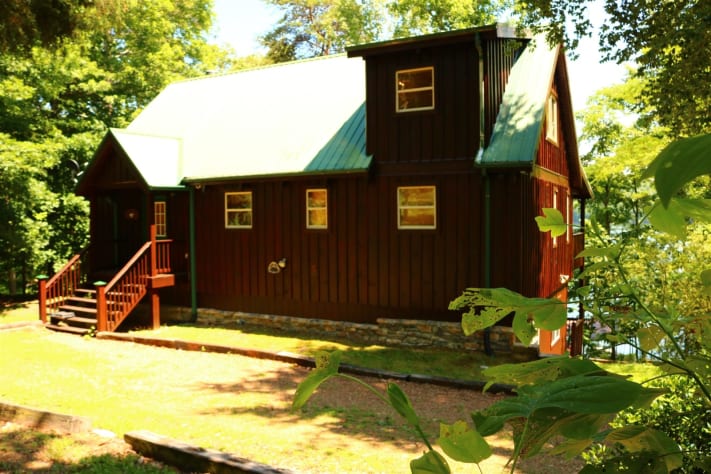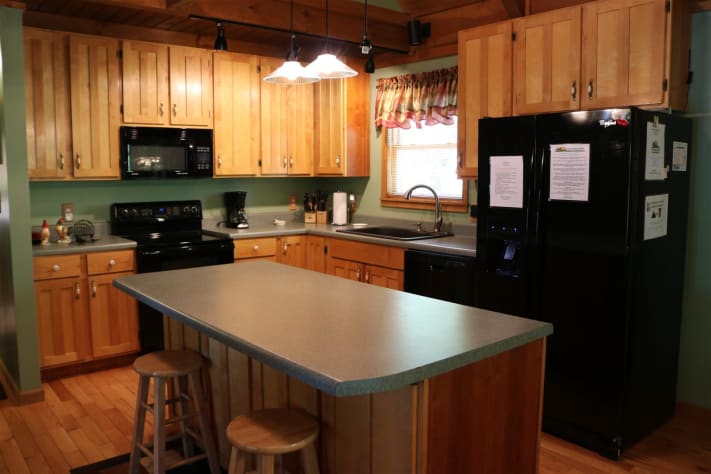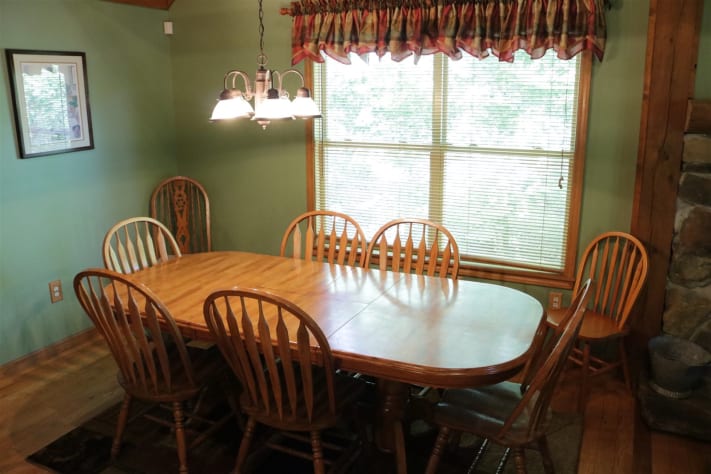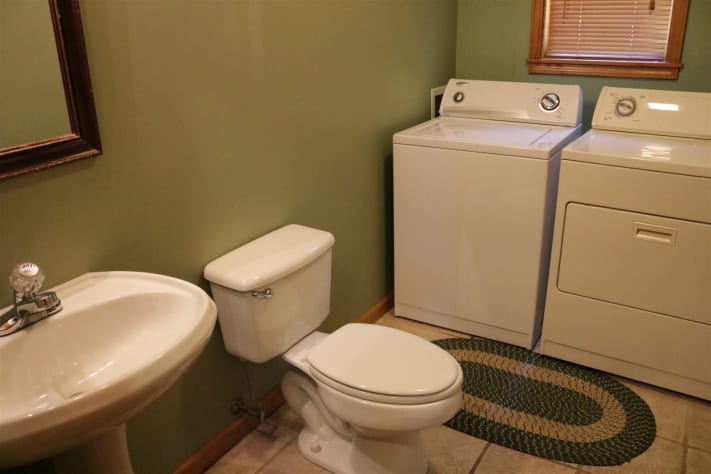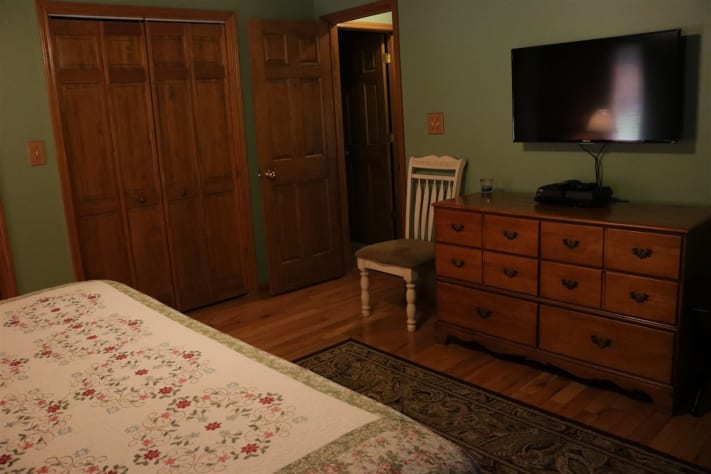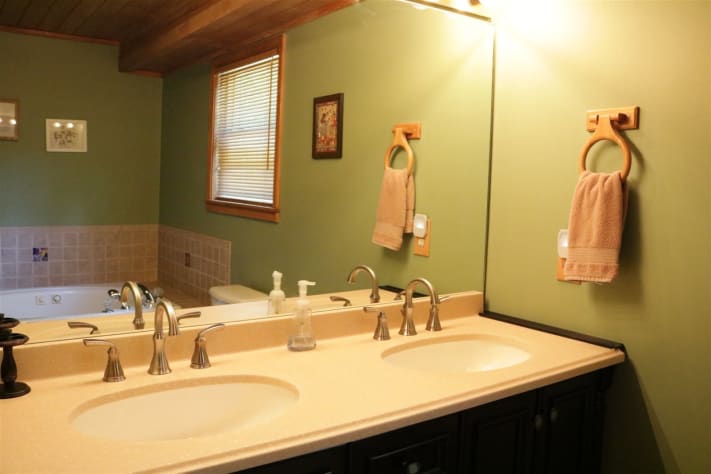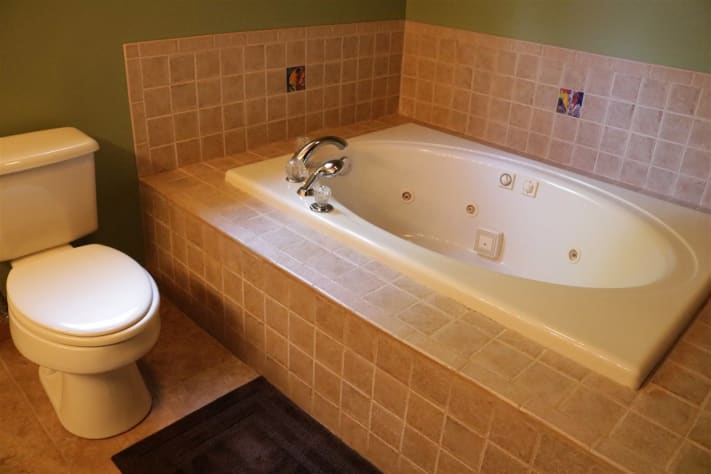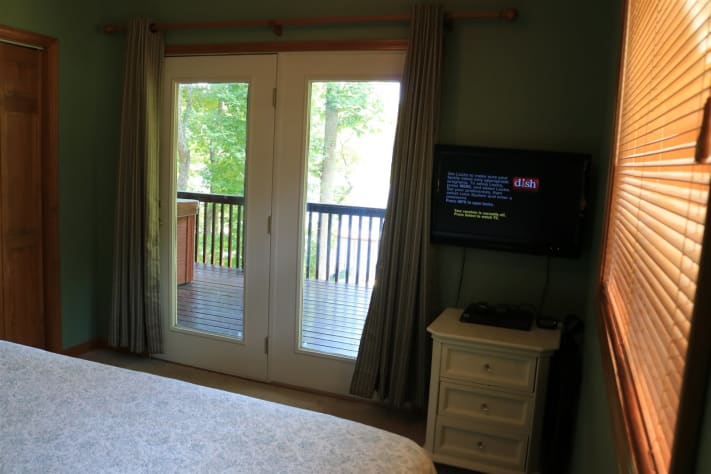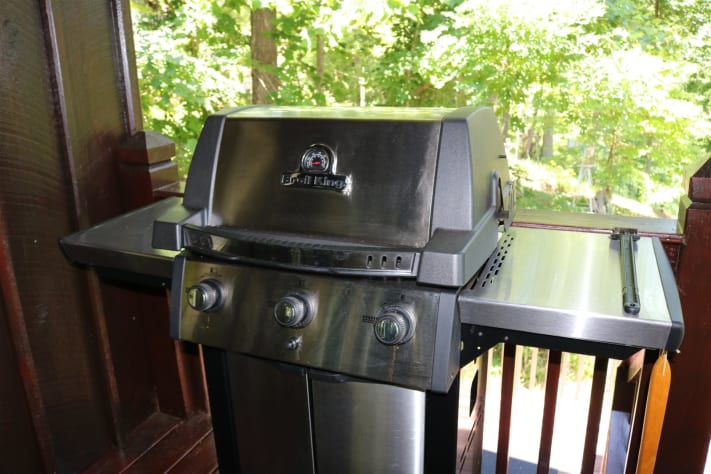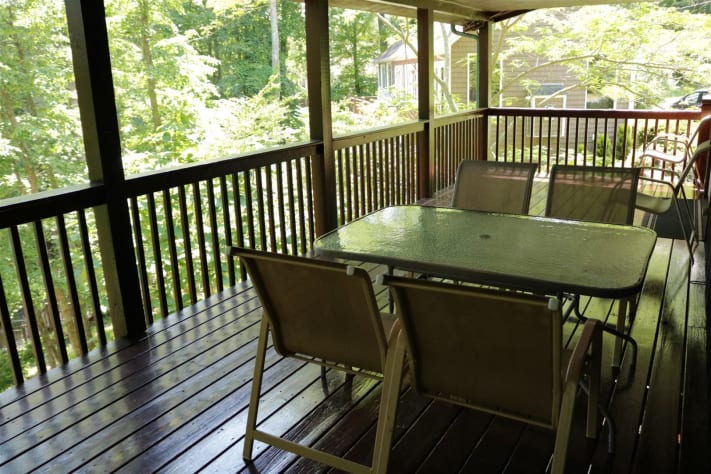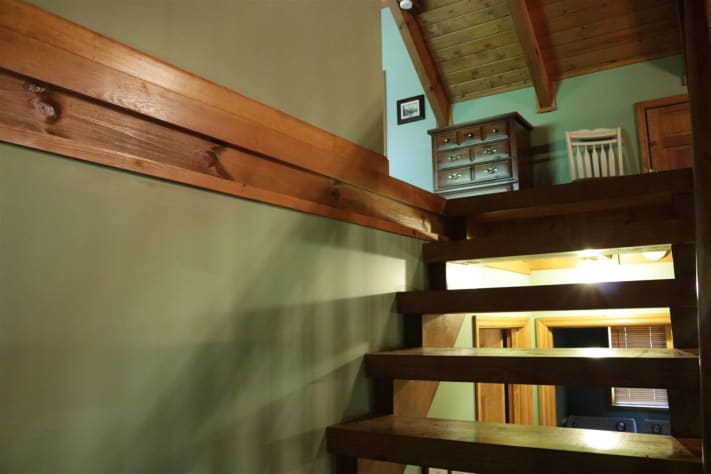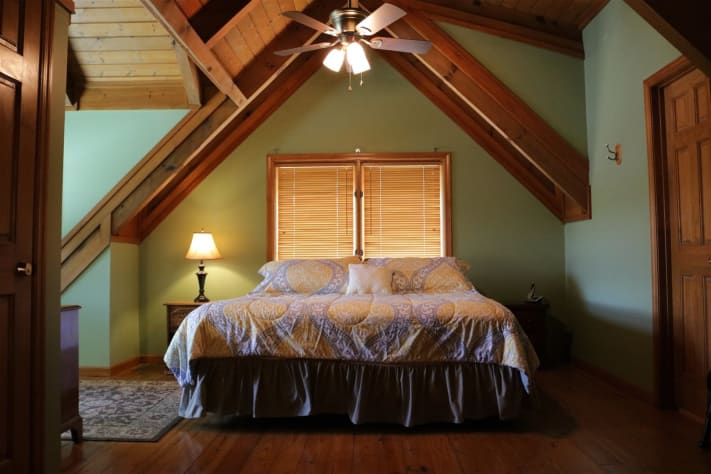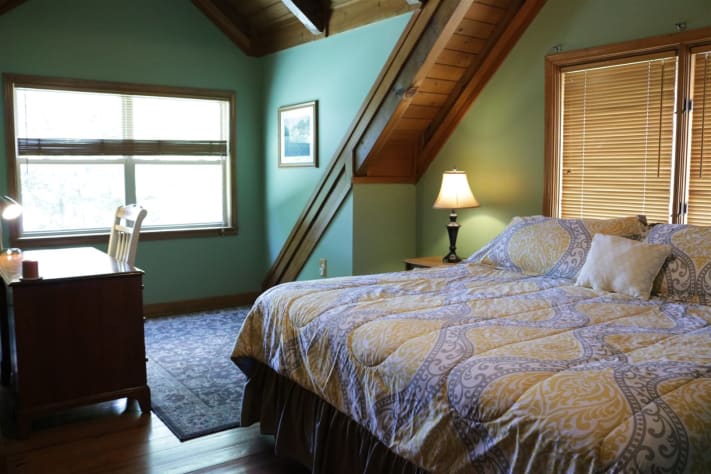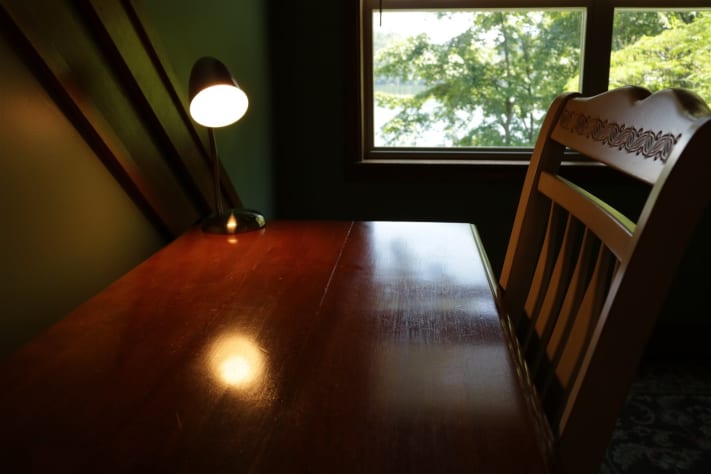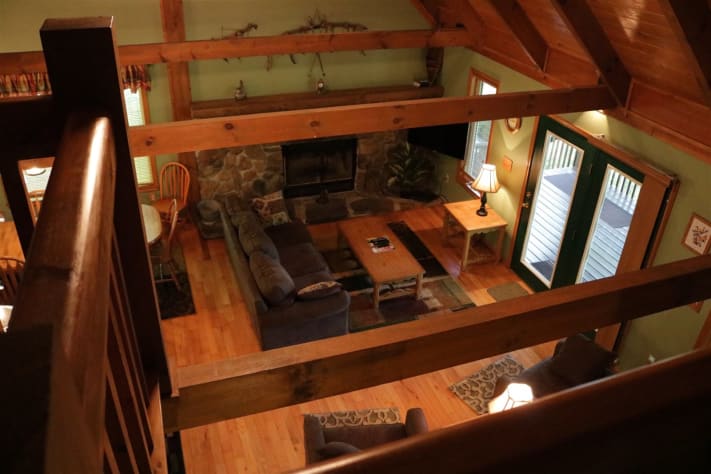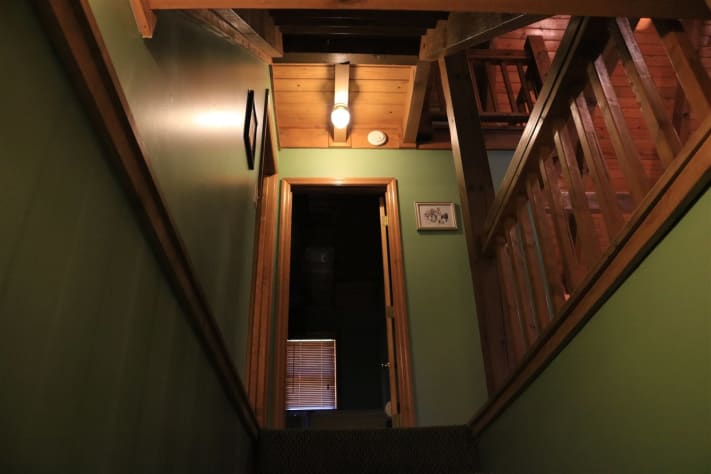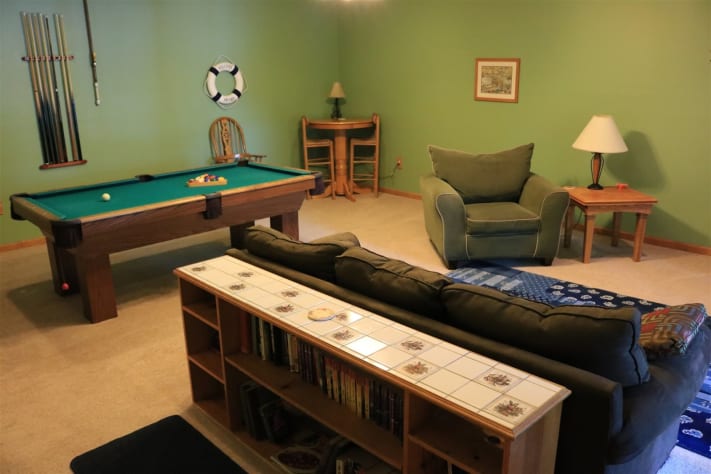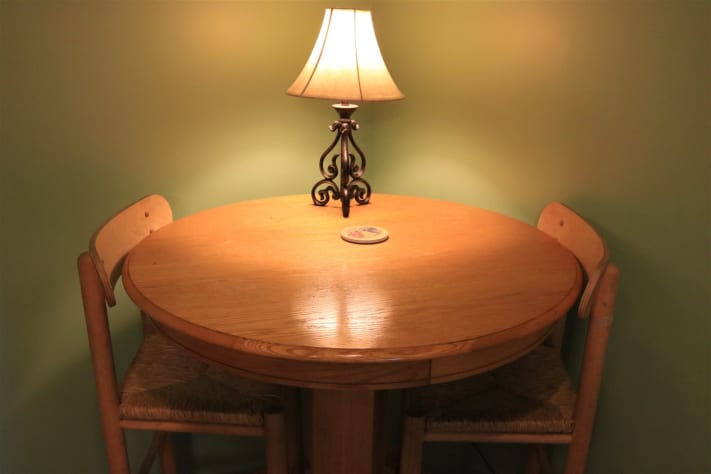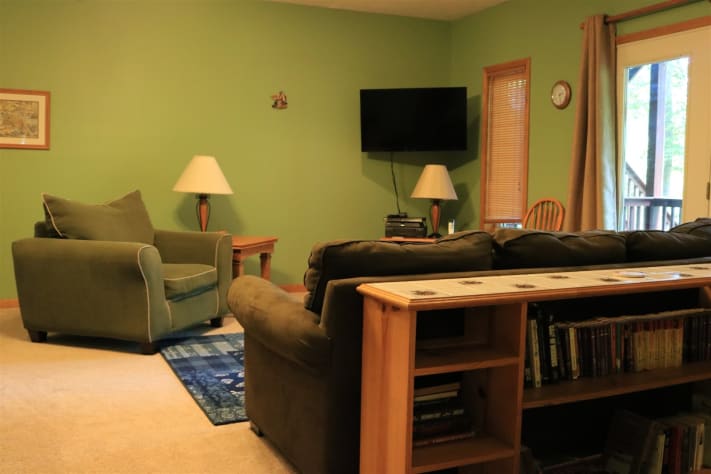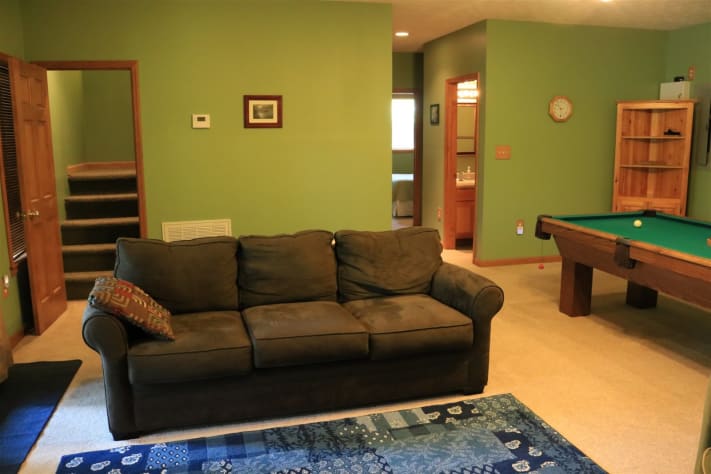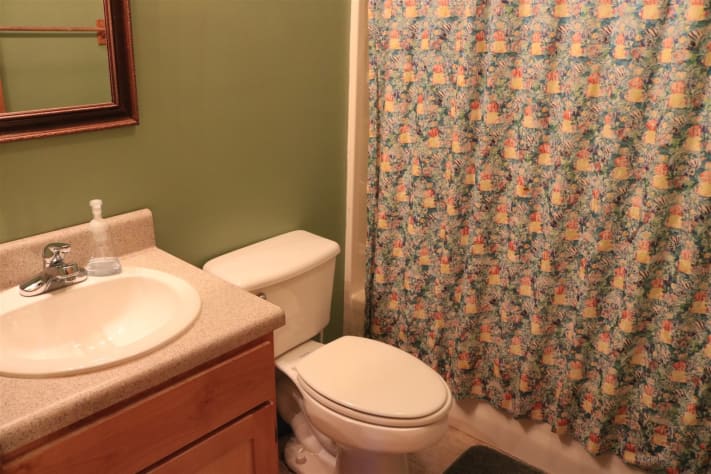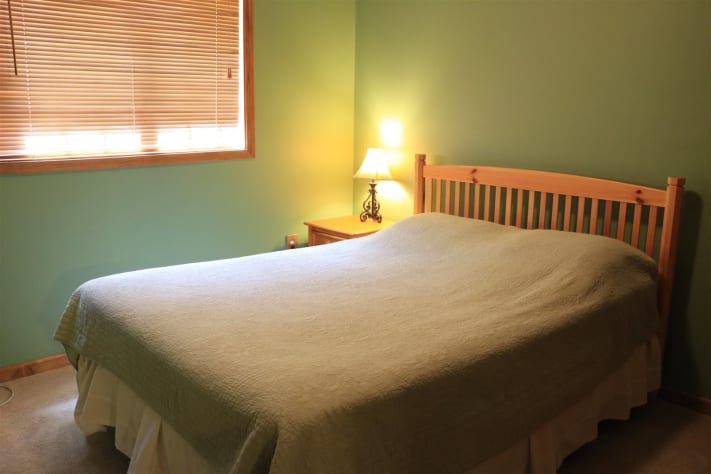 ---
---
Beds:

4

Baths:

3½

Sleeps:

10
Type:

Cabin

Reviews:

1

Views:

286
Last Updated: 8/19/2019

Description
---
Come experience the best of Norris Lake by staying in this stunning lakefront vacation cabin
This pet friendly cabin rental on Norris Lake is near Sharps Chapel in East Tennessee. Come experience the best of Norris Lake by staying in this stunning lakefront vacation cabin with 4 bedrooms, 3 bathrooms, and enough room to accommodate up to 10 guests. You'll immediately fall in love with the beautiful, spacious great room that is complete with a wood burning stone fireplace and charming, rustic décor. The open floor plan is great for entertaining and socializing. The full kitchen and dining area look into the great room, so you can continue conversation from room to room while preparing meals. If you must get business work done while on vacation, you'll be happy to know that there is free wireless internet throughout the cabin. Everything else you need or want in your ultimate home away from home is here, including laundry facilities, a big TV, pool table, and private hot tub out on the deck – Relax in the warmth of the bubbles while gazing out at the amazing views! One of the best features about this vacation cabin in East Tennessee is its private covered dock and sundeck, which provides you with year-round access to the lake. You can be swimming, fishing or out on your boat within minutes of leaving your door! Just head down the scenic path (50 ft)… you'll feel like you're the only ones on the lake. It doesn't get much better than that. Norris Lake Cabin Rentals Find Sharps Chapel Cabins on FlipKey
---
Season
From/To
Nightly
Weekend
Weekly
Monthly
Min Nights
Summer 2019 Rates
08/22/2019
08/24/2019
$412.85
--
--
--
4
Summer 2019 Rates
08/25/2019
08/28/2019
$389.85
--
--
--
4
Summer 2019 Rates
08/29/2019
08/31/2019
$412.85
--
--
--
4
Summer 2019 Rates
09/01/2019
09/02/2019
$389.85
--
--
--
4
Summer 2019 Rates
09/03/2019
09/04/2019
$263.35
--
--
--
2
Summer 2019 Rates
09/05/2019
09/07/2019
$286.35
--
--
--
2
Summer 2019 Rates
09/08/2019
09/11/2019
$263.35
--
--
--
2
Summer 2019 Rates
09/12/2019
09/14/2019
$286.35
--
--
--
2
Summer 2019 Rates
09/15/2019
09/18/2019
$263.35
--
--
--
2
Summer 2019 Rates
09/19/2019
09/21/2019
$286.35
--
--
--
2
Summer 2019 Rates
09/22/2019
09/25/2019
$263.35
--
--
--
2
Fall 2019 Rates
09/26/2019
09/28/2019
$286.35
--
--
--
2
Fall 2019 Rates
09/29/2019
10/02/2019
$263.35
--
--
--
2
Fall 2019 Rates
10/03/2019
10/05/2019
$286.35
--
--
--
2
Fall 2019 Rates
10/06/2019
10/09/2019
$263.35
--
--
--
2
Fall 2019 Rates
10/10/2019
10/12/2019
$286.35
--
--
--
2
Fall 2019 Rates
10/13/2019
10/16/2019
$263.35
--
--
--
2
Fall 2019 Rates
10/17/2019
10/19/2019
$286.35
--
--
--
2
Fall 2019 Rates
10/20/2019
10/23/2019
$263.35
--
--
--
2
Fall 2019 Rates
10/24/2019
10/26/2019
$286.35
--
--
--
2
Fall 2019 Rates
10/27/2019
10/30/2019
$263.35
--
--
--
2
Fall 2019 Rates
10/31/2019
11/02/2019
$286.35
--
--
--
2
Fall 2019 Rates
11/03/2019
11/06/2019
$263.35
--
--
--
2
Fall 2019 Rates
11/07/2019
11/09/2019
$286.35
--
--
--
2
Fall 2019 Rates
11/10/2019
11/13/2019
$263.35
--
--
--
2
Fall 2019 Rates
11/14/2019
11/16/2019
$286.35
--
--
--
2
Fall 2019 Rates
11/17/2019
11/20/2019
$263.35
--
--
--
2
Fall 2019 Rates
11/21/2019
11/23/2019
$286.35
--
--
--
4
Fall 2019 Rates
11/24/2019
11/27/2019
$263.35
--
--
--
4
Fall 2019 Rates
11/28/2019
11/30/2019
$286.35
--
--
--
4
Fall 2019 Rates
12/01/2019
12/01/2019
$263.35
--
--
--
4
Fall 2019 Rates
12/02/2019
12/04/2019
$263.35
--
--
--
2
Fall 2019 Rates
12/05/2019
12/07/2019
$286.35
--
--
--
2
Fall 2019 Rates
12/08/2019
12/11/2019
$263.35
--
--
--
2
Fall 2019 Rates
12/12/2019
12/14/2019
$286.35
--
--
--
2
Fall 2019 Rates
12/15/2019
12/18/2019
$263.35
--
--
--
2
Fall 2019 Rates
12/19/2019
12/21/2019
$286.35
--
--
--
4
Winter 2020 Rates
12/22/2019
12/25/2019
$263.35
--
--
--
4
Winter 2020 Rates
12/26/2019
12/28/2019
$286.35
--
--
--
4
Winter 2020 Rates
12/29/2019
01/01/2020
$263.35
--
--
--
4
Winter 2020 Rates
01/02/2020
01/04/2020
$205.85
--
--
--
2
Winter 2020 Rates
01/05/2020
01/08/2020
$194.35
--
--
--
2
Winter 2020 Rates
01/09/2020
01/11/2020
$205.85
--
--
--
2
Winter 2020 Rates
01/12/2020
01/15/2020
$194.35
--
--
--
2
Winter 2020 Rates
01/16/2020
01/18/2020
$205.85
--
--
--
2
Winter 2020 Rates
01/19/2020
01/22/2020
$194.35
--
--
--
2
Winter 2020 Rates
01/23/2020
01/25/2020
$205.85
--
--
--
2
Winter 2020 Rates
01/26/2020
01/29/2020
$194.35
--
--
--
2
Winter 2020 Rates
01/30/2020
02/01/2020
$205.85
--
--
--
2
Winter 2020 Rates
02/02/2020
02/05/2020
$194.35
--
--
--
2
Winter 2020 Rates
02/06/2020
02/08/2020
$205.85
--
--
--
2
Winter 2020 Rates
02/09/2020
02/12/2020
$194.35
--
--
--
2
Winter 2020 Rates
02/13/2020
02/15/2020
$205.85
--
--
--
2
Winter 2020 Rates
02/16/2020
02/19/2020
$194.35
--
--
--
2
Winter 2020 Rates
02/20/2020
02/22/2020
$205.85
--
--
--
2
Winter 2020 Rates
02/23/2020
02/26/2020
$194.35
--
--
--
2
Winter 2020 Rates
02/27/2020
02/29/2020
$205.85
--
--
--
2
Winter 2020 Rates
03/01/2020
03/04/2020
$194.35
--
--
--
2
Winter 2020 Rates
03/05/2020
03/07/2020
$205.85
--
--
--
2
Winter 2020 Rates
03/08/2020
03/11/2020
$194.35
--
--
--
2
Winter 2020 Rates
03/12/2020
03/14/2020
$205.85
--
--
--
2
Winter 2020 Rates
03/15/2020
03/18/2020
$194.35
--
--
--
2
Spring 2020 Rates
03/19/2020
03/21/2020
$205.85
--
--
--
2
Spring 2020 Rates
03/22/2020
03/25/2020
$194.35
--
--
--
2
Spring 2020 Rates
03/26/2020
03/27/2020
$205.85
--
--
--
2
Spring 2020 Rates
03/28/2020
03/28/2020
$228.85
--
--
--
3
Spring 2020 Rates
03/29/2020
04/01/2020
$205.85
--
--
--
3
Spring 2020 Rates
04/02/2020
04/04/2020
$228.85
--
--
--
3
Spring 2020 Rates
04/05/2020
04/08/2020
$205.85
--
--
--
3
Spring 2020 Rates
04/09/2020
04/11/2020
$228.85
--
--
--
3
Spring 2020 Rates
04/12/2020
04/15/2020
$205.85
--
--
--
3
Spring 2020 Rates
04/16/2020
04/18/2020
$228.85
--
--
--
3
Spring 2020 Rates
04/19/2020
04/22/2020
$205.85
--
--
--
3
Spring 2020 Rates
04/23/2020
04/25/2020
$228.85
--
--
--
3
Spring 2020 Rates
04/26/2020
04/29/2020
$205.85
--
--
--
3
Spring 2020 Rates
04/30/2020
05/02/2020
$228.85
--
--
--
3
Spring 2020 Rates
05/03/2020
05/06/2020
$205.85
--
--
--
3
Spring 2020 Rates
05/07/2020
05/09/2020
$228.85
--
--
--
3
Spring 2020 Rates
05/10/2020
05/13/2020
$205.85
--
--
--
3
Spring 2020 Rates
05/14/2020
05/16/2020
$228.85
--
--
--
3
Spring 2020 Rates
05/17/2020
05/20/2020
$205.85
--
--
--
3
Spring 2020 Rates
05/21/2020
05/23/2020
$412.85
--
--
--
4
Spring 2020 Rates
05/24/2020
05/27/2020
$389.85
--
--
--
4
Spring 2020 Rates
05/28/2020
05/30/2020
$412.85
--
--
--
4
Spring 2020 Rates
05/31/2020
06/03/2020
$389.85
--
--
--
4
Spring 2020 Rates
06/04/2020
06/06/2020
$412.85
--
--
--
4
Spring 2020 Rates
06/07/2020
06/10/2020
$389.85
--
--
--
4
Spring 2020 Rates
06/11/2020
06/12/2020
$412.85
--
--
--
4
Spring 2020 Rates
06/13/2020
06/13/2020
--
--
$2,890.00
--
7
Spring 2020 Rates
06/14/2020
06/17/2020
--
--
$2,729.00
--
7
Spring 2020 Rates
06/18/2020
06/20/2020
--
--
$2,890.00
--
7
Summer 2020 Rates
06/21/2020
06/24/2020
--
--
$2,729.00
--
7
Summer 2020 Rates
06/25/2020
06/27/2020
--
--
$2,890.00
--
7
Summer 2020 Rates
06/28/2020
07/01/2020
--
--
$2,729.00
--
7
Summer 2020 Rates
07/02/2020
07/04/2020
--
--
$2,890.00
--
7
Summer 2020 Rates
07/05/2020
07/08/2020
--
--
$2,729.00
--
7
Summer 2020 Rates
07/09/2020
07/11/2020
--
--
$2,890.00
--
7
Summer 2020 Rates
07/12/2020
07/15/2020
--
--
$2,729.00
--
7
Summer 2020 Rates
07/16/2020
07/18/2020
--
--
$2,890.00
--
7
Summer 2020 Rates
07/19/2020
07/22/2020
--
--
$2,729.00
--
7
Summer 2020 Rates
07/23/2020
07/25/2020
--
--
$2,890.00
--
7
Summer 2020 Rates
07/26/2020
07/29/2020
--
--
$2,729.00
--
7
Summer 2020 Rates
07/30/2020
08/01/2020
--
--
$2,890.00
--
7
Summer 2020 Rates
08/02/2020
08/05/2020
--
--
$2,729.00
--
7
Summer 2020 Rates
08/06/2020
08/08/2020
--
--
$2,890.00
--
7
Summer 2020 Rates
08/09/2020
08/12/2020
--
--
$2,729.00
--
7
Summer 2020 Rates
08/13/2020
08/15/2020
--
--
$2,890.00
--
7
Summer 2020 Rates
08/16/2020
08/19/2020
--
--
$2,729.00
--
7
Summer 2020 Rates
08/20/2020
08/22/2020
--
--
$2,890.00
--
7
Summer 2020 Rates
08/23/2020
08/26/2020
--
--
$2,729.00
--
7
Summer 2020 Rates
08/27/2020
08/29/2020
--
--
$2,890.00
--
7
Summer 2020 Rates
08/30/2020
09/02/2020
--
--
$2,729.00
--
7
Summer 2020 Rates
09/03/2020
09/05/2020
--
--
$2,890.00
--
7
Summer 2020 Rates
09/06/2020
09/08/2020
--
--
$2,729.00
--
7
Summer 2020 Rates
09/09/2020
09/09/2020
$263.35
--
--
--
2
Summer 2020 Rates
09/10/2020
09/12/2020
$286.35
--
--
--
2
Summer 2020 Rates
09/13/2020
09/16/2020
$263.35
--
--
--
2
Summer 2020 Rates
09/17/2020
09/19/2020
$286.35
--
--
--
2
Summer 2020 Rates
09/20/2020
09/23/2020
$263.35
--
--
--
2
Fall 2020 Rates
09/24/2020
09/26/2020
$286.35
--
--
--
2
Fall 2020 Rates
09/27/2020
09/30/2020
$263.35
--
--
--
2
Fall 2020 Rates
10/01/2020
10/03/2020
$286.35
--
--
--
2
Fall 2020 Rates
10/04/2020
10/07/2020
$263.35
--
--
--
2
Fall 2020 Rates
10/08/2020
10/10/2020
$286.35
--
--
--
2
Fall 2020 Rates
10/11/2020
10/14/2020
$263.35
--
--
--
2
Fall 2020 Rates
10/15/2020
10/17/2020
$286.35
--
--
--
2
Fall 2020 Rates
10/18/2020
10/21/2020
$263.35
--
--
--
2
Fall 2020 Rates
10/22/2020
10/24/2020
$286.35
--
--
--
2
Fall 2020 Rates
10/25/2020
10/28/2020
$263.35
--
--
--
2
Fall 2020 Rates
10/29/2020
10/31/2020
$286.35
--
--
--
2
Fall 2020 Rates
11/01/2020
11/04/2020
$263.35
--
--
--
2
Fall 2020 Rates
11/05/2020
11/07/2020
$286.35
--
--
--
2
Fall 2020 Rates
11/08/2020
11/11/2020
$263.35
--
--
--
2
Fall 2020 Rates
11/12/2020
11/14/2020
$286.35
--
--
--
2
Fall 2020 Rates
11/15/2020
11/18/2020
$263.35
--
--
--
2
Fall 2020 Rates
11/19/2020
11/20/2020
$286.35
--
--
--
2
Fall 2020 Rates
11/21/2020
11/21/2020
$286.35
--
--
--
4
Fall 2020 Rates
11/22/2020
11/25/2020
$263.35
--
--
--
4
Fall 2020 Rates
11/26/2020
11/28/2020
$286.35
--
--
--
4
Fall 2020 Rates
11/29/2020
11/30/2020
$263.35
--
--
--
4
Fall 2020 Rates
12/01/2020
12/02/2020
$263.35
--
--
--
2
Fall 2020 Rates
12/03/2020
12/05/2020
$286.35
--
--
--
2
Fall 2020 Rates
12/06/2020
12/09/2020
$263.35
--
--
--
2
Fall 2020 Rates
12/10/2020
12/12/2020
$286.35
--
--
--
2
Fall 2020 Rates
12/13/2020
12/16/2020
$263.35
--
--
--
2
Fall 2020 Rates
12/17/2020
12/18/2020
$286.35
--
--
--
2
Fall 2020 Rates
12/19/2020
12/19/2020
$286.35
--
--
--
4
Fall 2020 Rates
12/20/2020
12/23/2020
$263.35
--
--
--
4
Winter 2021 Rates
12/24/2020
12/26/2020
$286.35
--
--
--
4
Winter 2021 Rates
12/27/2020
12/30/2020
$263.35
--
--
--
4
Winter 2021 Rates
12/31/2020
01/01/2021
$286.35
--
--
--
4
Winter 2021 Rates
01/02/2021
01/02/2021
$205.85
--
--
--
2
Winter 2021 Rates
01/03/2021
01/06/2021
$194.35
--
--
--
2
Winter 2021 Rates
01/07/2021
01/09/2021
$205.85
--
--
--
2
Winter 2021 Rates
01/10/2021
01/13/2021
$194.35
--
--
--
2
Winter 2021 Rates
01/14/2021
01/16/2021
$205.85
--
--
--
2
Winter 2021 Rates
01/17/2021
01/20/2021
$194.35
--
--
--
2
Winter 2021 Rates
01/21/2021
01/23/2021
$205.85
--
--
--
2
Winter 2021 Rates
01/24/2021
01/27/2021
$194.35
--
--
--
2
Winter 2021 Rates
01/28/2021
01/30/2021
$205.85
--
--
--
2
Winter 2021 Rates
01/31/2021
02/03/2021
$194.35
--
--
--
2
Winter 2021 Rates
02/04/2021
02/06/2021
$205.85
--
--
--
2
Winter 2021 Rates
02/07/2021
02/10/2021
$194.35
--
--
--
2
Winter 2021 Rates
02/11/2021
02/13/2021
$205.85
--
--
--
2
Winter 2021 Rates
02/14/2021
02/17/2021
$194.35
--
--
--
2
Winter 2021 Rates
02/18/2021
02/20/2021
$205.85
--
--
--
2
Winter 2021 Rates
02/21/2021
02/24/2021
$194.35
--
--
--
2
Winter 2021 Rates
02/25/2021
02/27/2021
$205.85
--
--
--
2
Winter 2021 Rates
02/28/2021
03/03/2021
$194.35
--
--
--
2
Winter 2021 Rates
03/04/2021
03/06/2021
$205.85
--
--
--
2
Winter 2021 Rates
03/07/2021
03/10/2021
$194.35
--
--
--
2
Winter 2021 Rates
03/11/2021
03/13/2021
$205.85
--
--
--
2
Winter 2021 Rates
03/14/2021
03/17/2021
$194.35
--
--
--
2
Winter 2021 Rates
03/18/2021
03/20/2021
$205.85
--
--
--
2
Spring 2021 Rates
03/21/2021
03/24/2021
$194.35
--
--
--
2
Spring 2021 Rates
03/25/2021
03/26/2021
$205.85
--
--
--
2
Spring 2021 Rates
03/27/2021
03/27/2021
$228.85
--
--
--
3
Spring 2021 Rates
03/28/2021
03/31/2021
$205.85
--
--
--
3
Spring 2021 Rates
04/01/2021
04/03/2021
$228.85
--
--
--
3
Spring 2021 Rates
04/04/2021
04/07/2021
$205.85
--
--
--
3
Spring 2021 Rates
04/08/2021
04/10/2021
$228.85
--
--
--
3
Spring 2021 Rates
04/11/2021
04/14/2021
$205.85
--
--
--
3
Spring 2021 Rates
04/15/2021
04/17/2021
$228.85
--
--
--
3
Spring 2021 Rates
04/18/2021
04/21/2021
$205.85
--
--
--
3
Spring 2021 Rates
04/22/2021
04/24/2021
$228.85
--
--
--
3
Spring 2021 Rates
04/25/2021
04/28/2021
$205.85
--
--
--
3
Spring 2021 Rates
04/29/2021
05/01/2021
$228.85
--
--
--
3
Spring 2021 Rates
05/02/2021
05/05/2021
$205.85
--
--
--
3
Spring 2021 Rates
05/06/2021
05/08/2021
$228.85
--
--
--
3
Spring 2021 Rates
05/09/2021
05/12/2021
$205.85
--
--
--
3
Spring 2021 Rates
05/13/2021
05/15/2021
$228.85
--
--
--
3
Spring 2021 Rates
05/16/2021
05/19/2021
$205.85
--
--
--
3
Spring 2021 Rates
05/20/2021
05/22/2021
$228.85
--
--
--
3
Spring 2021 Rates
05/23/2021
05/26/2021
$205.85
--
--
--
3
Spring 2021 Rates
05/27/2021
05/29/2021
$412.85
--
--
--
4
Spring 2021 Rates
05/30/2021
06/02/2021
$389.85
--
--
--
4
Spring 2021 Rates
06/03/2021
06/05/2021
$412.85
--
--
--
4
Spring 2021 Rates
06/06/2021
06/09/2021
$389.85
--
--
--
4
Spring 2021 Rates
06/10/2021
06/11/2021
$412.85
--
--
--
4
Spring 2021 Rates
06/12/2021
06/12/2021
--
--
$2,890.00
--
7
Spring 2021 Rates
06/13/2021
06/16/2021
--
--
$2,729.00
--
7
Spring 2021 Rates
06/17/2021
06/19/2021
--
--
$2,890.00
--
7
Summer 2021 Rates
06/20/2021
06/23/2021
--
--
$2,729.00
--
7
Summer 2021 Rates
06/24/2021
06/26/2021
--
--
$2,890.00
--
7
Summer 2021 Rates
06/27/2021
06/30/2021
--
--
$2,729.00
--
7
Summer 2021 Rates
07/01/2021
07/03/2021
--
--
$2,890.00
--
7
Summer 2021 Rates
07/04/2021
07/07/2021
--
--
$2,729.00
--
7
Summer 2021 Rates
07/08/2021
07/10/2021
--
--
$2,890.00
--
7
Summer 2021 Rates
07/11/2021
07/14/2021
--
--
$2,729.00
--
7
Summer 2021 Rates
07/15/2021
07/17/2021
--
--
$2,890.00
--
7
Summer 2021 Rates
07/18/2021
07/21/2021
--
--
$2,729.00
--
7
Summer 2021 Rates
07/22/2021
07/24/2021
--
--
$2,890.00
--
7
Summer 2021 Rates
07/25/2021
07/28/2021
--
--
$2,729.00
--
7
Summer 2021 Rates
07/29/2021
07/31/2021
--
--
$2,890.00
--
7
Summer 2021 Rates
08/01/2021
08/04/2021
--
--
$2,729.00
--
7
Summer 2021 Rates
08/05/2021
08/07/2021
--
--
$2,890.00
--
7
Summer 2021 Rates
08/08/2021
08/11/2021
--
--
$2,729.00
--
7
Summer 2021 Rates
08/12/2021
08/14/2021
--
--
$2,890.00
--
7
Summer 2021 Rates
08/15/2021
08/18/2021
--
--
$2,729.00
--
7
Summer 2021 Rates
08/19/2021
08/21/2021
--
--
$2,890.00
--
7
Summer 2021 Rates
08/22/2021
08/25/2021
--
--
$2,729.00
--
7
Summer 2021 Rates
08/26/2021
08/28/2021
--
--
$2,890.00
--
7
Summer 2021 Rates
08/29/2021
09/01/2021
--
--
$2,729.00
--
7
Summer 2021 Rates
09/02/2021
09/04/2021
--
--
$2,890.00
--
7
Summer 2021 Rates
09/05/2021
09/06/2021
--
--
$2,729.00
--
7
Summer 2021 Rates
09/07/2021
09/08/2021
$263.35
--
--
--
2
Summer 2021 Rates
09/09/2021
09/11/2021
$286.35
--
--
--
2
Summer 2021 Rates
09/12/2021
09/15/2021
$263.35
--
--
--
2
Summer 2021 Rates
09/16/2021
09/18/2021
$286.35
--
--
--
2
Summer 2021 Rates
09/19/2021
09/22/2021
$263.35
--
--
--
2
Fall 2021 Rates
09/23/2021
09/25/2021
$286.35
--
--
--
2
Fall 2021 Rates
09/26/2021
09/29/2021
$263.35
--
--
--
2
Fall 2021 Rates
09/30/2021
10/02/2021
$286.35
--
--
--
2
Fall 2021 Rates
10/03/2021
10/06/2021
$263.35
--
--
--
2
Fall 2021 Rates
10/07/2021
10/09/2021
$286.35
--
--
--
2
Fall 2021 Rates
10/10/2021
10/13/2021
$263.35
--
--
--
2
Fall 2021 Rates
10/14/2021
10/16/2021
$286.35
--
--
--
2
Fall 2021 Rates
10/17/2021
10/20/2021
$263.35
--
--
--
2
Fall 2021 Rates
10/21/2021
10/23/2021
$286.35
--
--
--
2
Fall 2021 Rates
10/24/2021
10/27/2021
$263.35
--
--
--
2
Fall 2021 Rates
10/28/2021
10/30/2021
$286.35
--
--
--
2
Fall 2021 Rates
10/31/2021
11/03/2021
$263.35
--
--
--
2
Fall 2021 Rates
11/04/2021
11/06/2021
$286.35
--
--
--
2
Fall 2021 Rates
11/07/2021
11/10/2021
$263.35
--
--
--
2
Fall 2021 Rates
11/11/2021
11/13/2021
$286.35
--
--
--
2
Fall 2021 Rates
11/14/2021
11/17/2021
$263.35
--
--
--
2
Fall 2021 Rates
11/18/2021
11/19/2021
$286.35
--
--
--
2
Fall 2021 Rates
11/20/2021
11/20/2021
$286.35
--
--
--
4
Fall 2021 Rates
11/21/2021
11/24/2021
$263.35
--
--
--
4
Fall 2021 Rates
11/25/2021
11/27/2021
$286.35
--
--
--
4
Fall 2021 Rates
11/28/2021
11/29/2021
$263.35
--
--
--
4
Fall 2021 Rates
11/30/2021
12/01/2021
$263.35
--
--
--
2
Fall 2021 Rates
12/02/2021
12/04/2021
$286.35
--
--
--
2
Fall 2021 Rates
12/05/2021
12/08/2021
$263.35
--
--
--
2
Fall 2021 Rates
12/09/2021
12/11/2021
$286.35
--
--
--
2
Fall 2021 Rates
12/12/2021
12/15/2021
$263.35
--
--
--
2
Fall 2021 Rates
12/16/2021
12/18/2021
$286.35
--
--
--
2
Fall 2021 Rates
12/19/2021
12/22/2021
$263.35
--
--
--
2
Winter 2022 Rates
12/23/2021
12/25/2021
$286.35
--
--
--
4
Winter 2022 Rates
12/26/2021
12/29/2021
$263.35
--
--
--
4
Winter 2022 Rates
12/30/2021
01/01/2022
$286.35
--
--
--
4
Winter 2022 Rates
01/02/2022
01/05/2022
$194.35
--
--
--
2
Winter 2022 Rates
01/06/2022
01/08/2022
$205.85
--
--
--
2
Winter 2022 Rates
01/09/2022
01/12/2022
$194.35
--
--
--
2
Winter 2022 Rates
01/13/2022
01/15/2022
$205.85
--
--
--
2
Winter 2022 Rates
01/16/2022
01/19/2022
$194.35
--
--
--
2
Winter 2022 Rates
01/20/2022
01/22/2022
$205.85
--
--
--
2
Winter 2022 Rates
01/23/2022
01/26/2022
$194.35
--
--
--
2
Winter 2022 Rates
01/27/2022
01/29/2022
$205.85
--
--
--
2
Winter 2022 Rates
01/30/2022
02/02/2022
$194.35
--
--
--
2
Winter 2022 Rates
02/03/2022
02/05/2022
$205.85
--
--
--
2
Winter 2022 Rates
02/06/2022
02/09/2022
$194.35
--
--
--
2
Winter 2022 Rates
02/10/2022
02/12/2022
$205.85
--
--
--
2
Winter 2022 Rates
02/13/2022
02/16/2022
$194.35
--
--
--
2
Winter 2022 Rates
02/17/2022
02/19/2022
$205.85
--
--
--
2
Winter 2022 Rates
02/20/2022
02/23/2022
$194.35
--
--
--
2
Winter 2022 Rates
02/24/2022
02/26/2022
$205.85
--
--
--
2
Winter 2022 Rates
02/27/2022
03/02/2022
$194.35
--
--
--
2
Winter 2022 Rates
03/03/2022
03/05/2022
$205.85
--
--
--
2
Winter 2022 Rates
03/06/2022
03/09/2022
$194.35
--
--
--
2
Winter 2022 Rates
03/10/2022
03/12/2022
$205.85
--
--
--
2
Winter 2022 Rates
03/13/2022
03/16/2022
$194.35
--
--
--
2
Winter 2022 Rates
03/17/2022
03/19/2022
$205.85
--
--
--
2
Spring 2022 Rates
03/20/2022
03/23/2022
$194.35
--
--
--
2
Spring 2022 Rates
03/24/2022
03/25/2022
$205.85
--
--
--
2
Spring 2022 Rates
03/26/2022
03/26/2022
$228.85
--
--
--
3
Spring 2022 Rates
03/27/2022
03/30/2022
$205.85
--
--
--
3
Spring 2022 Rates
03/31/2022
04/02/2022
$228.85
--
--
--
3
Spring 2022 Rates
04/03/2022
04/06/2022
$205.85
--
--
--
3
Spring 2022 Rates
04/07/2022
04/09/2022
$228.85
--
--
--
3
Spring 2022 Rates
04/10/2022
04/13/2022
$205.85
--
--
--
3
Spring 2022 Rates
04/14/2022
04/16/2022
$228.85
--
--
--
3
Spring 2022 Rates
04/17/2022
04/20/2022
$205.85
--
--
--
3
Spring 2022 Rates
04/21/2022
04/23/2022
$228.85
--
--
--
3
Spring 2022 Rates
04/24/2022
04/27/2022
$205.85
--
--
--
3
Spring 2022 Rates
04/28/2022
04/30/2022
$228.85
--
--
--
3
Spring 2022 Rates
05/01/2022
05/04/2022
$205.85
--
--
--
3
Spring 2022 Rates
05/05/2022
05/07/2022
$228.85
--
--
--
3
Spring 2022 Rates
05/08/2022
05/11/2022
$205.85
--
--
--
3
Spring 2022 Rates
05/12/2022
05/14/2022
$228.85
--
--
--
3
Spring 2022 Rates
05/15/2022
05/18/2022
$205.85
--
--
--
3
Spring 2022 Rates
05/19/2022
05/21/2022
$228.85
--
--
--
3
Spring 2022 Rates
05/22/2022
05/25/2022
$205.85
--
--
--
3
Spring 2022 Rates
05/26/2022
05/28/2022
$412.85
--
--
--
4
Spring 2022 Rates
05/29/2022
06/01/2022
$389.85
--
--
--
4
Spring 2022 Rates
06/02/2022
06/04/2022
$412.85
--
--
--
4
Spring 2022 Rates
06/05/2022
06/08/2022
$389.85
--
--
--
4
Spring 2022 Rates
06/09/2022
06/10/2022
$412.85
--
--
--
4
Spring 2022 Rates
06/11/2022
06/11/2022
--
--
$2,890.00
--
7
Spring 2022 Rates
06/12/2022
06/15/2022
--
--
$2,729.00
--
7
Spring 2022 Rates
06/16/2022
06/18/2022
--
--
$2,890.00
--
7
Spring 2022 Rates
06/19/2022
06/22/2022
--
--
$2,729.00
--
7
Summer 2022 Rates
06/23/2022
06/25/2022
--
--
$2,890.00
--
7
Summer 2022 Rates
06/26/2022
06/29/2022
--
--
$2,729.00
--
7
Summer 2022 Rates
06/30/2022
07/02/2022
--
--
$2,890.00
--
7
Summer 2022 Rates
07/03/2022
07/06/2022
--
--
$2,729.00
--
7
Summer 2022 Rates
07/07/2022
07/09/2022
--
--
$2,890.00
--
7
Summer 2022 Rates
07/10/2022
07/13/2022
--
--
$2,729.00
--
7
Summer 2022 Rates
07/14/2022
07/16/2022
--
--
$2,890.00
--
7
Summer 2022 Rates
07/17/2022
07/20/2022
--
--
$2,729.00
--
7
Summer 2022 Rates
07/21/2022
07/23/2022
--
--
$2,890.00
--
7
Summer 2022 Rates
07/24/2022
07/27/2022
--
--
$2,729.00
--
7
Summer 2022 Rates
07/28/2022
07/30/2022
--
--
$2,890.00
--
7
Summer 2022 Rates
07/31/2022
08/03/2022
--
--
$2,729.00
--
7
Summer 2022 Rates
08/04/2022
08/06/2022
--
--
$2,890.00
--
7
Summer 2022 Rates
08/07/2022
08/08/2022
--
--
$2,729.00
--
7
Explaination of Payment Policies - Please Read The Following Information Before Booking:
---
General
Linens Included
Pet Friendly
Vacuum
Bedroom Extras
TV
Satellite
DVD
Fireplace
Bathroom
Whirlpool/Jacuzzi Bathtub
Tub
Kitchen
Coffee Maker
Dishwasher
Microwave
Oven
Refrigerator
Toaster
Laundry
Heating and Cooling Comfort
Central Air Conditioning
Window A/C Units
Central Heating
Entertainment
Home Office
High Speed Internet Access
Wireless Internet Access
Outside Living
Parking
---
Places To Eat
Bubba Brew's Sports Bar & Grill
Jimmy's Place
Hickory Star Resort & Marina
Norris Landing Marina
Mountain Lake Marina
Shanghai Resort
Castaways Grill and Bar
The Tiki Club
La Fiesta Mexican Restaurant
Coal Creek Smokehouse BBQ
Rickard Ridge BBQ
El Pueblito
Charley's Pizza Parlor
McDonald's
Golden Girls Restaurant
Glenn's Pizza & Grill
Powell Valley Resort
Gondolier Restaurant
La Sierra Mexican Restaurant
Fox's Diner
Things To Do and See
Museum of Appalachia
Norris Paddling Adventures
Cove Lake State Park
Appalachia Outdoor Center
Little Ponderosa Zoo
Coal Creek Miners Museum
The Miner's Circle - Mine Explosion Graves
Oasis Watersports
Big Ridge State Park
Tiki Club
Anderson County Park
Gibbs Ferry Park
Cedar Creek Bridge
Wakeboard
Sunchaser Pontoon Rental
Berkshire Pontoon Rental
Sea Doo rentals.
Tanger Outlet Five Oaks
Dollywood Theme Park
Hydro-Bikes of East Tennessee
---
Kathy
05/24/2019
Memorable Memorial Weekend
Thanks for letting us use your wonderful camp. It was a bit of a drive in, but worth the trip. The accommodations were very nice. The lake was amazing. For some reason, the bedroom on the first floor didn't cool off. There was plenty of room for our group to spread out. I'd recommend this place to friends.
Norris Lake Cabin Rentals 's Reply:
Hi Nate, Thank you for staying and taking the time to review us online. We welcome you back anytime. By the way the basement air ducts needed closed. The main floor bedroom is fine now. A call to our office would have taken care of that. Sorry for the discomfort, thank goodness it wasnt too hot. Have a blessed day! Randy & kathy Nixon