GREENBRIER ESTATE, Gatlinburg, Tennessee Cabin Rental by Owner
Gatlinburg Private Properties, Gatlinburg Vacation Rental Cabin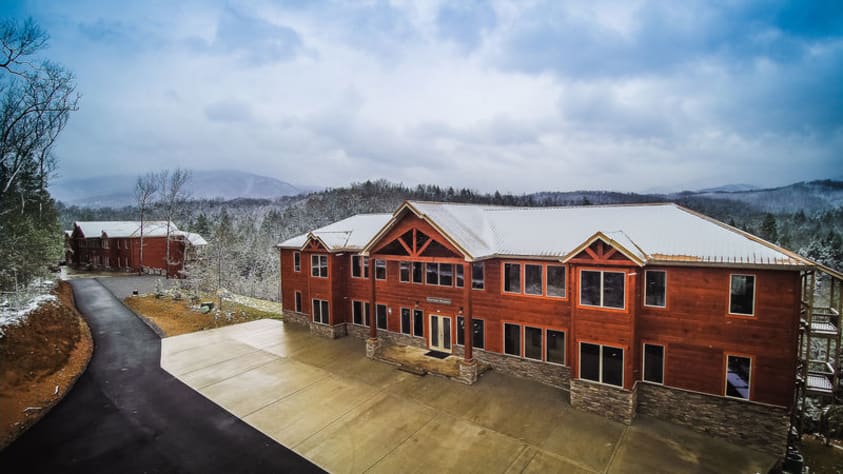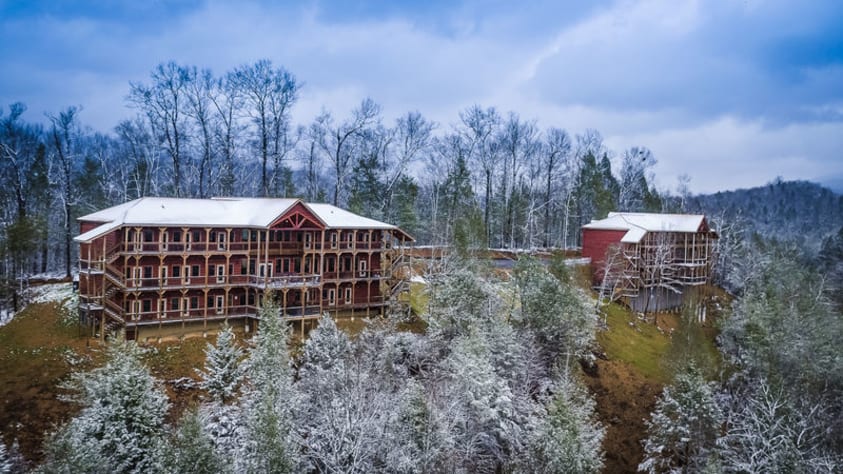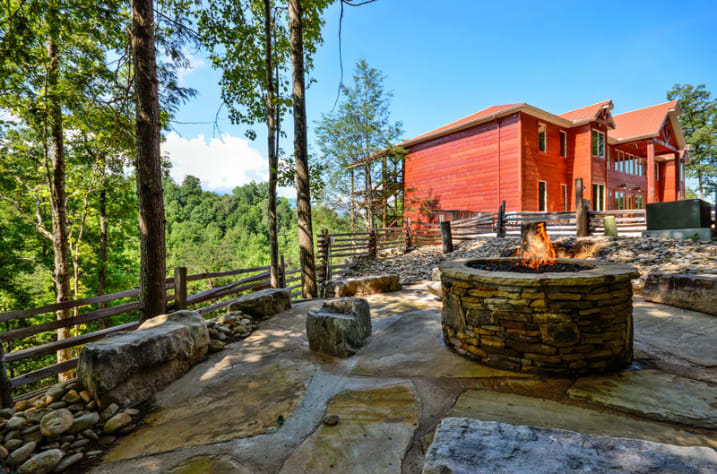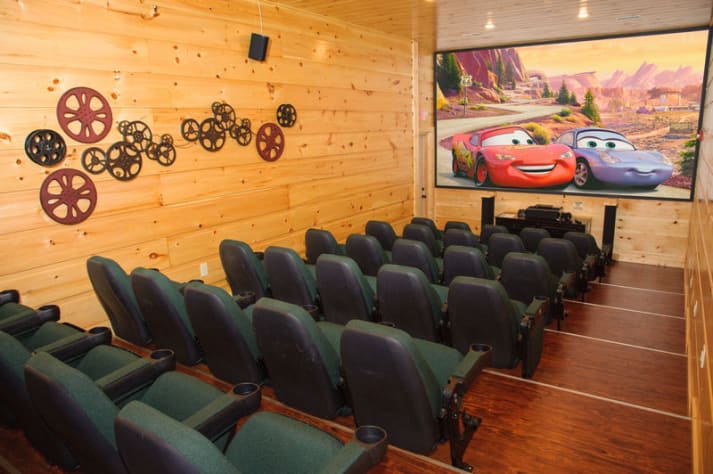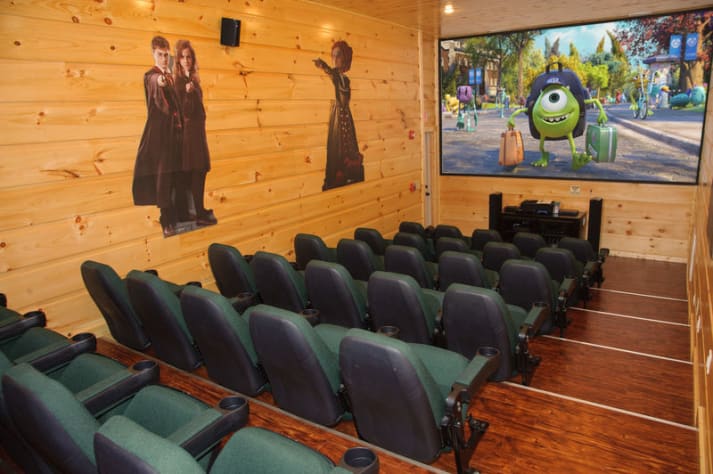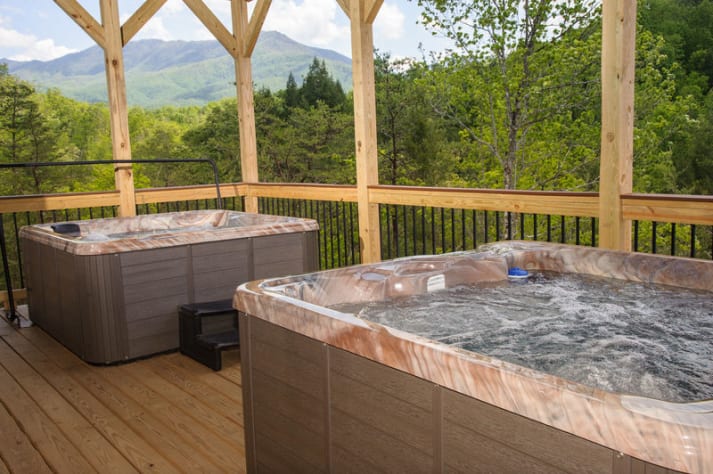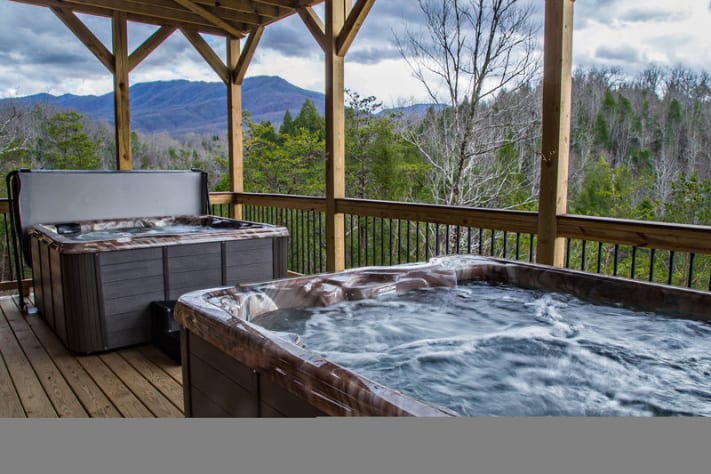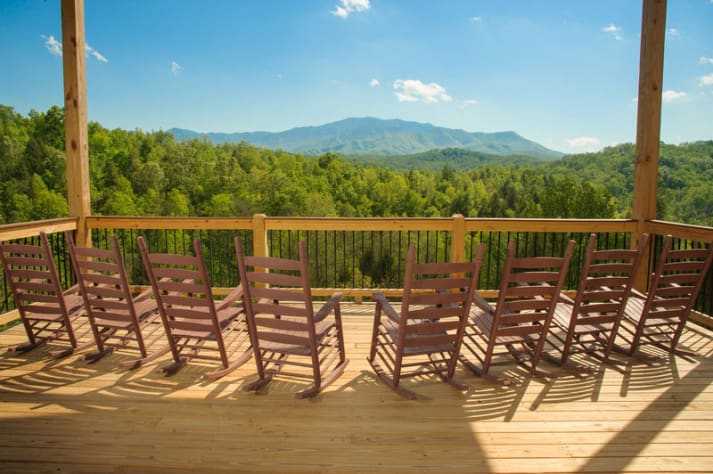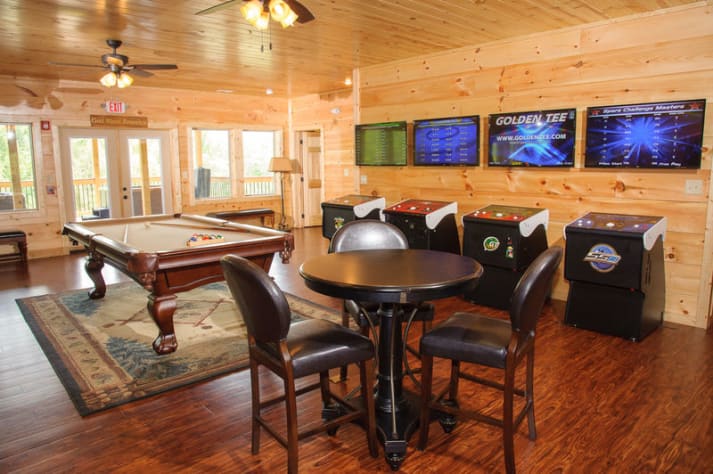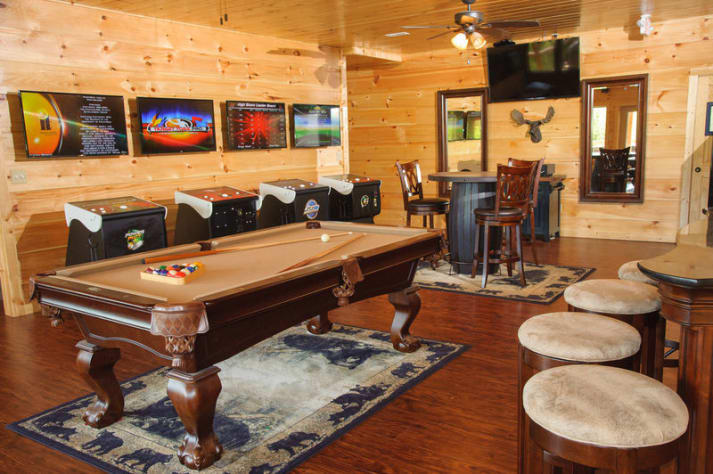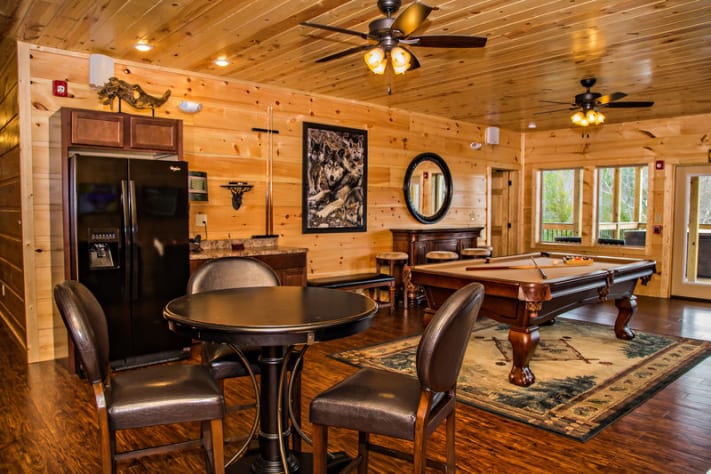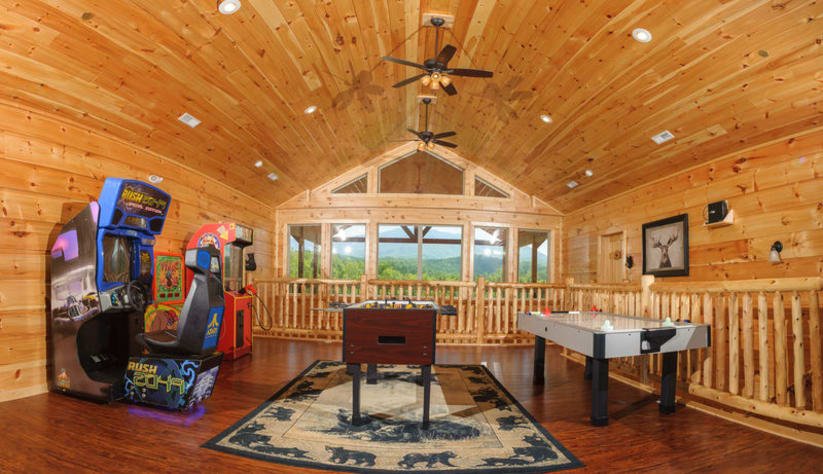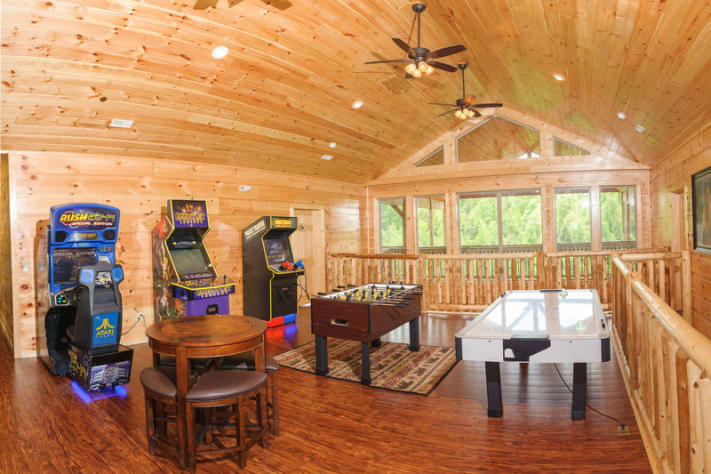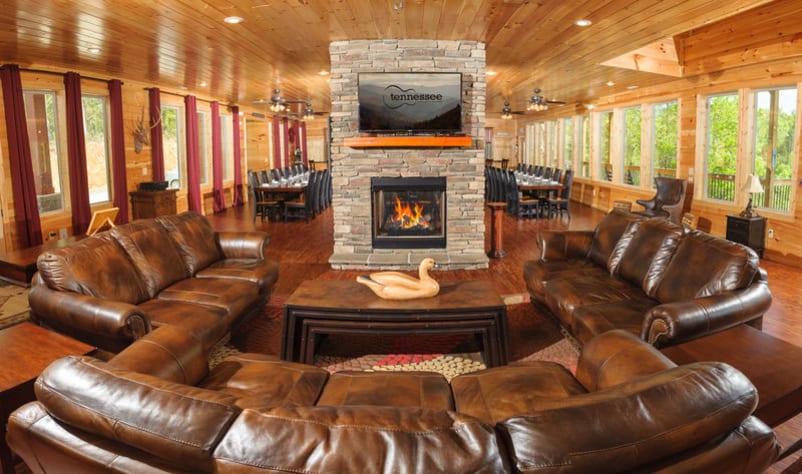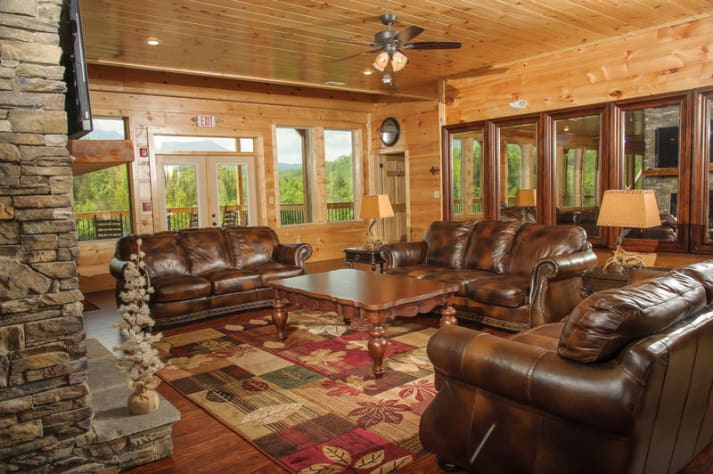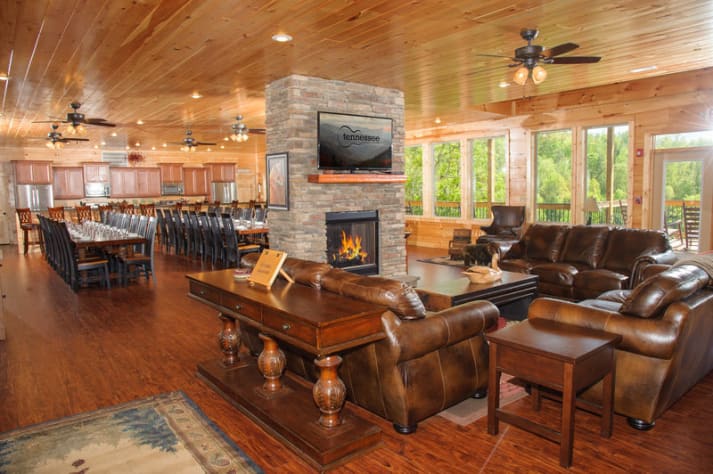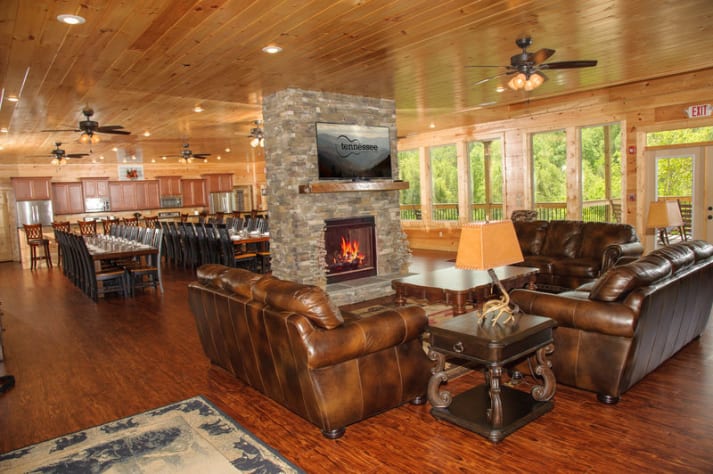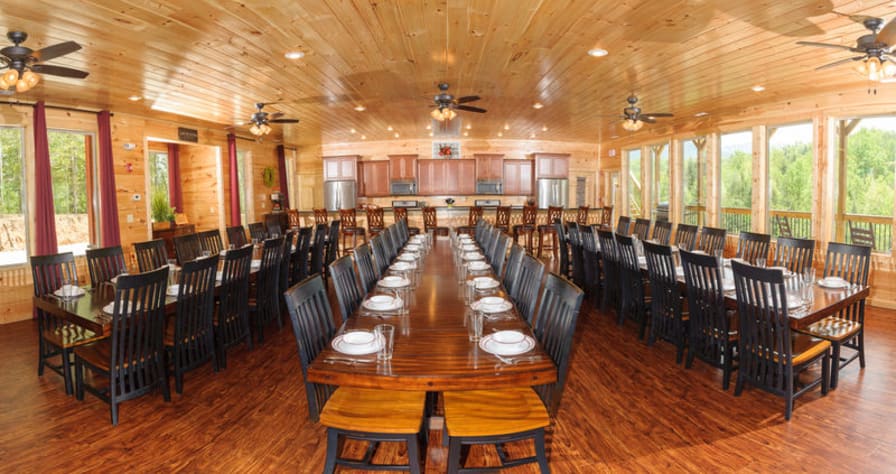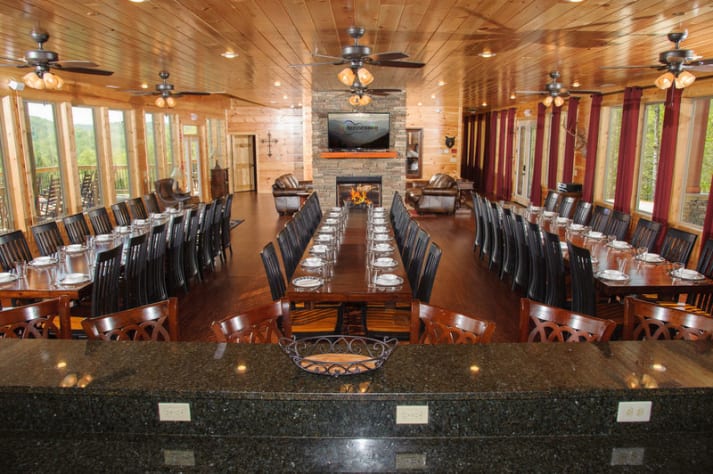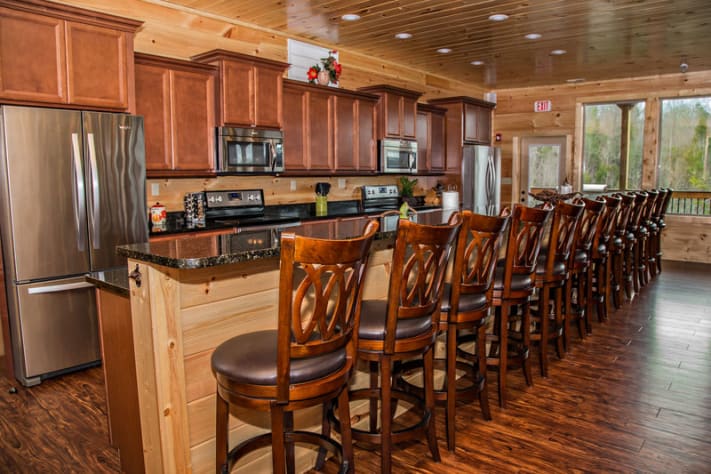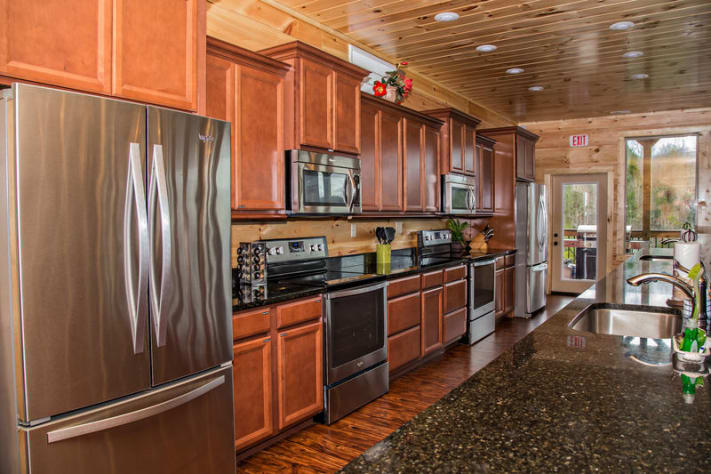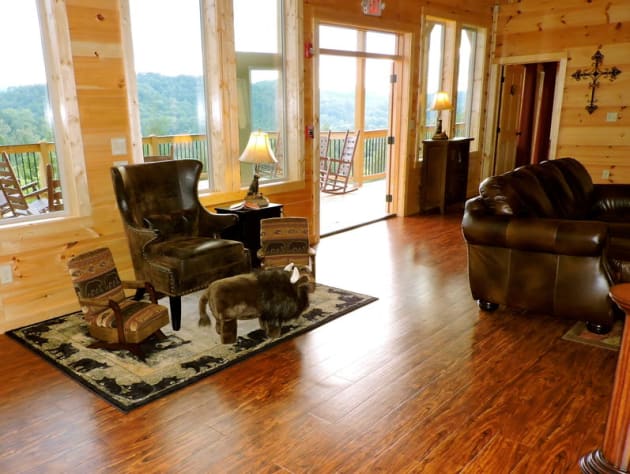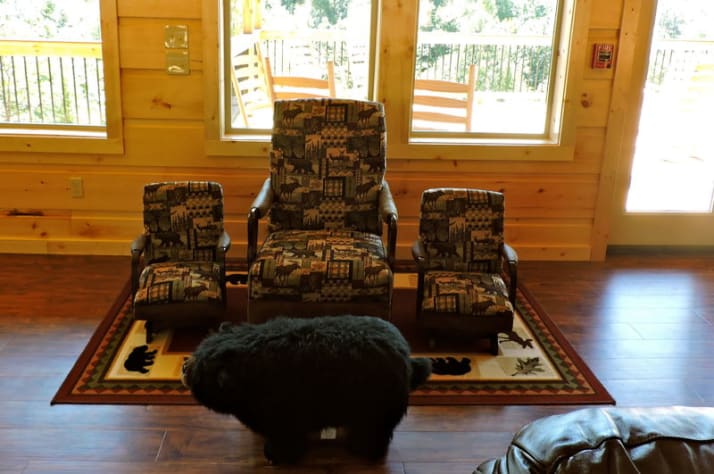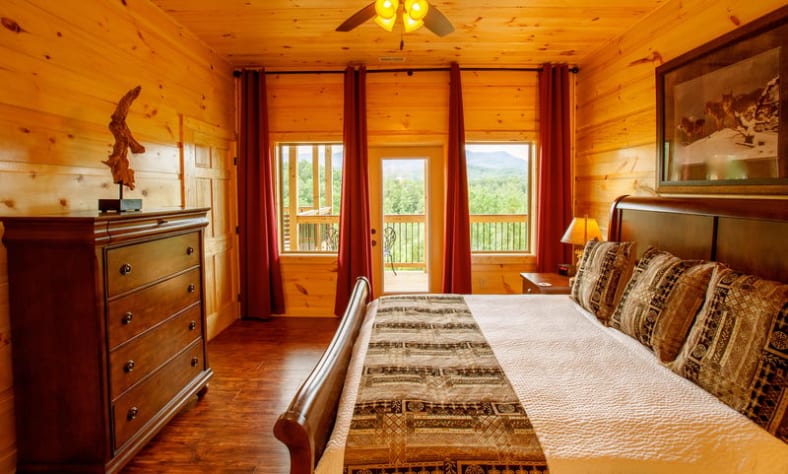 ---
---
Beds:

Unknown

Baths:

30

Sleeps:

88
Type:

Cabin

Reviews:

0

Views:

4176
Last Updated: 7/25/2021

Description
---
The Greenbrier Estate is a luxurious cabin with 28 bedrooms that can sleep up to 88 guests! This estate is perfect for wedding, corporate retreats and
You are planning the event of a lifetime and you want to have that event in Gatlinburg, Tennessee. Its beautiful scenery, majestic mountains, and fascinating fauna make it the perfect place to have a wedding, family reunion, retirement party, or business retreat. There are many large event halls in the area, and weddings, anniversary parties, and business events are held in them often. However, you want your event to be something that people will remember for years to come, and what could be more memorable than an event held at an estate in the Smoky Mountains?



The Greenbrier Estates offers two 14-bedroom mansions and 10 acres of land on which you can host the event of your dreams. Your guests will have enough room to feel comfortable. Staying in this fabulous cabin-style home is like staying in a resort hotel, only better!



You will have many choices as to where to serve dinner or have a ceremony on the estate. You will find four spacious decks on the property. There is also a large walk area that would be the perfect place to have a wedding or a company awards ceremony. If you prefer to have your event indoors, you will find that each of the mansions has a dining area large enough to accommodate anyone you would care to invite.



Each mansion has a large state-of-the-art kitchen which is big enough for a full staff. Each kitchen comes fully equipped with the latest appliances and has all the dishes you will need for your event. There are two stoves and two dishwashers so you will not have to worry too much about the logistics of serving your meal.



The bedrooms of these mansions are the perfect place to retire at night. Each bedroom comes with a flat-screen TV and a large bed. Some of the rooms have huge closets for anything you might care to bring or buy. Each bedroom suite has its own sparkling clean bathroom that has such features as dual showers, sunken, tubs, and his and her sinks. Your guests will find four laundry rooms and plenty of parking on the property. They will also have access to high-speed internet while they are there.



There is no need to worry about entertaining your guests before and after the actual event. There are plenty of recreational activities on this estate. Your guests can enjoy a movie in one of two private theaters. They can play old-fashioned arcade games in one of two game rooms or they can enjoy a game of air hockey or foosball. No luxury abode would be complete without a pool table, and this estate boasts several of them. You will find multiple hot tubs and a fire pit on the property.



The estate is a popular place for events. You shouldn't miss out on holding your special day here. Give us a call today!





Please scroll to bottom of page for floor plans & additional photos.





Providing the ultimate in casual elegance, fun & amenities, these 3 story mansions sleep up to 88 people.





Both cabins offer open, spacious gathering areas, as well as multiple level decks where guests can relax and commune with nature, while soaking up the fresh air, sunshine, & magnificent mountain views.






28 Beautifully Decorated Bedroom Suites with Private Bathrooms




2 Home Theaters




4 Hot Tubs




30 Fireplaces




2 Bright, Well Appointed Kitchens




30 Bathrooms




6 Spacious Decks 




Plenty of Rocking Chairs




Bistro Table & Chairs outside each Bedroom




Elevator in each cabin




2 Large Dining Areas




2 Handicap Suites




Wheelchair Accessible




4 Laundry Rooms




Plenty of Parking




Smoking outside of cabin only please



Each Elegantly Decorated Bedroom Suite Features:



King Size Bed




Gas Fireplace 




Widescreen HDTV




Exit onto Balcony with Glorious Mountain Views




Private Bathroom




Jetted Tub




Shower




Double Sink Vanity




Wall Mounted Hairdryer




8 of the 28 Bedroom Suites feature Queen Size Bunk Beds in addition to the King Bed



4 Gamerooms



 Pool Tables




 Foosball Tables




Air Hockey Tables




Game Tables




Arcade Games (No Coins Required!)




full size Refrigerator/Freezer



Greenbrier Estates is conveniently located just 15 minutes from Downtown Gatlinburg, Great Smoky Mountains National Park, Ober Gatlinburg Ski Resort, & 25 minutes from Dollywood, & Tanger Outlets.
We have just completed our fabulous, brand new event center, located just a 5-minute walk from our mansions.  This lovely facility is perfect for weddings, church retreats, family reunions, corporate events, etc.  
---
Season
From/To
Nightly
Weekend
Weekly
Monthly
Min Nights
Summer 2021 Rates
07/25/2021
08/06/2021
$5,050.00
--
--
--
4
Summer 2021 Rates
08/07/2021
08/14/2021
$3,870.00
--
--
--
3
Summer 2021 Rates
08/15/2021
08/19/2021
$3,630.00
--
--
--
2
Summer 2021 Rates
08/20/2021
08/21/2021
$3,870.00
--
--
--
3
Summer 2021 Rates
08/22/2021
08/26/2021
$3,630.00
--
--
--
2
Summer 2021 Rates
08/27/2021
08/28/2021
$3,870.00
--
--
--
3
Summer 2021 Rates
08/29/2021
09/02/2021
$3,630.00
--
--
--
2
Summer 2021 Rates
09/03/2021
09/06/2021
$4,150.00
--
--
--
3
Summer 2021 Rates
09/07/2021
09/09/2021
$3,630.00
--
--
--
2
Summer 2021 Rates
09/10/2021
09/11/2021
$3,870.00
--
--
--
3
Summer 2021 Rates
09/12/2021
09/16/2021
$3,630.00
--
--
--
2
Summer 2021 Rates
09/17/2021
09/18/2021
$3,870.00
--
--
--
3
Summer 2021 Rates
09/19/2021
09/23/2021
$3,630.00
--
--
--
2
Fall 2021 Rates
09/24/2021
09/25/2021
$3,870.00
--
--
--
3
Fall 2021 Rates
09/26/2021
09/30/2021
$3,630.00
--
--
--
2
Fall 2021 Rates
10/01/2021
10/02/2021
$4,150.00
--
--
--
3
Fall 2021 Rates
10/03/2021
10/07/2021
$3,950.00
--
--
--
3
Fall 2021 Rates
10/08/2021
10/11/2021
$4,150.00
--
--
--
3
Fall 2021 Rates
10/12/2021
10/14/2021
$3,950.00
--
--
--
3
Fall 2021 Rates
10/15/2021
10/16/2021
$4,150.00
--
--
--
3
Fall 2021 Rates
10/17/2021
10/21/2021
$3,950.00
--
--
--
3
Fall 2021 Rates
10/22/2021
10/23/2021
$4,150.00
--
--
--
3
Fall 2021 Rates
10/24/2021
10/28/2021
$3,950.00
--
--
--
3
Fall 2021 Rates
10/29/2021
10/31/2021
$4,150.00
--
--
--
3
Fall 2021 Rates
11/01/2021
11/04/2021
$2,790.00
--
--
--
2
Fall 2021 Rates
11/05/2021
11/06/2021
$3,500.00
--
--
--
3
Fall 2021 Rates
11/07/2021
11/11/2021
$2,790.00
--
--
--
2
Fall 2021 Rates
11/12/2021
11/13/2021
$3,500.00
--
--
--
3
Fall 2021 Rates
11/14/2021
11/18/2021
$2,790.00
--
--
--
2
Fall 2021 Rates
11/19/2021
11/20/2021
$3,500.00
--
--
--
3
Fall 2021 Rates
11/21/2021
11/27/2021
$6,000.00
--
--
--
5
Fall 2021 Rates
11/28/2021
12/02/2021
$2,790.00
--
--
--
2
Fall 2021 Rates
12/03/2021
12/04/2021
$3,500.00
--
--
--
3
Fall 2021 Rates
12/05/2021
12/09/2021
$2,790.00
--
--
--
2
Fall 2021 Rates
12/10/2021
12/11/2021
$3,500.00
--
--
--
3
Fall 2021 Rates
12/12/2021
12/16/2021
$2,790.00
--
--
--
2
Fall 2021 Rates
12/17/2021
12/18/2021
$3,500.00
--
--
--
3
Fall 2021 Rates
12/19/2021
12/25/2021
$4,830.00
--
--
--
3
Winter 2022 Rates
12/26/2021
01/03/2022
$6,000.00
--
--
--
5
Winter 2022 Rates
01/04/2022
01/06/2022
$2,790.00
--
--
--
2
Winter 2022 Rates
01/07/2022
01/09/2022
$3,500.00
--
--
--
3
Winter 2022 Rates
01/10/2022
01/13/2022
$2,790.00
--
--
--
2
Winter 2022 Rates
01/14/2022
01/17/2022
$4,150.00
--
--
--
3
Winter 2022 Rates
01/18/2022
01/20/2022
$2,790.00
--
--
--
2
Winter 2022 Rates
01/21/2022
01/23/2022
$3,500.00
--
--
--
3
Winter 2022 Rates
01/24/2022
01/27/2022
$2,790.00
--
--
--
2
Winter 2022 Rates
01/28/2022
01/30/2022
$3,500.00
--
--
--
3
Winter 2022 Rates
01/31/2022
02/03/2022
$2,790.00
--
--
--
2
Winter 2022 Rates
02/04/2022
02/06/2022
$3,500.00
--
--
--
3
Winter 2022 Rates
02/07/2022
02/10/2022
$2,790.00
--
--
--
2
Winter 2022 Rates
02/11/2022
02/13/2022
$3,500.00
--
--
--
3
Winter 2022 Rates
02/14/2022
02/17/2022
$2,790.00
--
--
--
2
Winter 2022 Rates
02/18/2022
02/20/2022
$3,500.00
--
--
--
3
Winter 2022 Rates
02/21/2022
02/24/2022
$2,790.00
--
--
--
2
Winter 2022 Rates
02/25/2022
02/27/2022
$3,500.00
--
--
--
3
Winter 2022 Rates
02/28/2022
03/03/2022
$3,630.00
--
--
--
2
Winter 2022 Rates
03/04/2022
03/06/2022
$3,870.00
--
--
--
3
Winter 2022 Rates
03/07/2022
03/10/2022
$3,630.00
--
--
--
2
Winter 2022 Rates
03/11/2022
03/13/2022
$3,870.00
--
--
--
3
Winter 2022 Rates
03/14/2022
03/17/2022
$3,630.00
--
--
--
2
Winter 2022 Rates
03/18/2022
03/20/2022
$3,870.00
--
--
--
3
Spring 2022 Rates
03/21/2022
03/24/2022
$3,630.00
--
--
--
2
Spring 2022 Rates
03/25/2022
03/27/2022
$3,870.00
--
--
--
3
Spring 2022 Rates
03/28/2022
03/31/2022
$3,630.00
--
--
--
2
Spring 2022 Rates
04/01/2022
04/03/2022
$3,870.00
--
--
--
3
Spring 2022 Rates
04/04/2022
04/07/2022
$3,630.00
--
--
--
2
Spring 2022 Rates
04/08/2022
04/10/2022
$3,870.00
--
--
--
3
Spring 2022 Rates
04/11/2022
04/14/2022
$3,630.00
--
--
--
2
Spring 2022 Rates
04/15/2022
04/17/2022
$4,150.00
--
--
--
3
Spring 2022 Rates
04/18/2022
04/21/2022
$3,630.00
--
--
--
2
Spring 2022 Rates
04/22/2022
04/24/2022
$3,870.00
--
--
--
3
Spring 2022 Rates
04/25/2022
04/28/2022
$3,630.00
--
--
--
2
Spring 2022 Rates
04/29/2022
05/01/2022
$3,870.00
--
--
--
3
Spring 2022 Rates
05/02/2022
05/05/2022
$3,630.00
--
--
--
2
Spring 2022 Rates
05/06/2022
05/08/2022
$3,870.00
--
--
--
3
Spring 2022 Rates
05/09/2022
05/12/2022
$3,630.00
--
--
--
2
Spring 2022 Rates
05/13/2022
05/15/2022
$3,870.00
--
--
--
3
Spring 2022 Rates
05/16/2022
05/19/2022
$3,630.00
--
--
--
2
Spring 2022 Rates
05/20/2022
05/22/2022
$3,870.00
--
--
--
3
Spring 2022 Rates
05/23/2022
05/26/2022
$3,630.00
--
--
--
2
Spring 2022 Rates
05/27/2022
05/30/2022
$4,150.00
--
--
--
3
Spring 2022 Rates
05/31/2022
06/12/2022
$3,950.00
--
--
--
3
Spring 2022 Rates
06/13/2022
08/07/2022
$5,050.00
--
--
--
4
Summer 2022 Rates
08/08/2022
08/11/2022
$3,630.00
--
--
--
2
Summer 2022 Rates
08/12/2022
08/14/2022
$3,870.00
--
--
--
3
Summer 2022 Rates
08/15/2022
08/18/2022
$3,630.00
--
--
--
2
Summer 2022 Rates
08/19/2022
08/21/2022
$3,870.00
--
--
--
3
Summer 2022 Rates
08/22/2022
08/25/2022
$3,630.00
--
--
--
2
Summer 2022 Rates
08/26/2022
08/28/2022
$3,870.00
--
--
--
3
Summer 2022 Rates
08/29/2022
09/01/2022
$3,630.00
--
--
--
2
Summer 2022 Rates
09/02/2022
09/05/2022
$4,150.00
--
--
--
3
Summer 2022 Rates
09/06/2022
09/08/2022
$3,630.00
--
--
--
2
Summer 2022 Rates
09/09/2022
09/11/2022
$3,870.00
--
--
--
3
Summer 2022 Rates
09/12/2022
09/15/2022
$3,630.00
--
--
--
2
Summer 2022 Rates
09/16/2022
09/18/2022
$3,870.00
--
--
--
3
Summer 2022 Rates
09/19/2022
09/22/2022
$3,630.00
--
--
--
2
Fall 2022 Rates
09/23/2022
09/25/2022
$3,870.00
--
--
--
3
Fall 2022 Rates
09/26/2022
09/29/2022
$3,630.00
--
--
--
2
Fall 2022 Rates
09/30/2022
10/02/2022
$4,150.00
--
--
--
3
Fall 2022 Rates
10/03/2022
10/06/2022
$3,950.00
--
--
--
3
Fall 2022 Rates
10/07/2022
10/09/2022
$4,150.00
--
--
--
3
Fall 2022 Rates
10/10/2022
10/13/2022
$3,950.00
--
--
--
3
Fall 2022 Rates
10/14/2022
10/16/2022
$4,150.00
--
--
--
3
Fall 2022 Rates
10/17/2022
10/20/2022
$3,950.00
--
--
--
3
Fall 2022 Rates
10/21/2022
10/23/2022
$4,150.00
--
--
--
3
Fall 2022 Rates
10/24/2022
10/27/2022
$3,950.00
--
--
--
3
Fall 2022 Rates
10/28/2022
10/31/2022
$4,150.00
--
--
--
3
Fall 2022 Rates
11/01/2022
11/03/2022
$2,790.00
--
--
--
2
Fall 2022 Rates
11/04/2022
11/06/2022
$3,500.00
--
--
--
3
Fall 2022 Rates
11/07/2022
11/10/2022
$2,790.00
--
--
--
2
Fall 2022 Rates
11/11/2022
11/13/2022
$3,500.00
--
--
--
3
Fall 2022 Rates
11/14/2022
11/17/2022
$2,790.00
--
--
--
2
Fall 2022 Rates
11/18/2022
11/18/2022
$3,500.00
--
--
--
3
Fall 2022 Rates
11/19/2022
11/27/2022
$6,000.00
--
--
--
5
Fall 2022 Rates
11/28/2022
12/01/2022
$2,790.00
--
--
--
2
Fall 2022 Rates
12/02/2022
12/04/2022
$3,500.00
--
--
--
3
Fall 2022 Rates
12/05/2022
12/08/2022
$2,790.00
--
--
--
2
Fall 2022 Rates
12/09/2022
12/11/2022
$3,500.00
--
--
--
3
Fall 2022 Rates
12/12/2022
12/15/2022
$2,790.00
--
--
--
2
Fall 2022 Rates
12/16/2022
12/18/2022
$3,500.00
--
--
--
3
Fall 2022 Rates
12/19/2022
12/20/2022
$2,790.00
--
--
--
2
Winter 2023 Rates
12/21/2022
12/25/2022
$4,830.00
--
--
--
3
Winter 2023 Rates
12/26/2022
01/03/2023
$6,000.00
--
--
--
5
Winter 2023 Rates
01/04/2023
01/05/2023
$2,930.00
--
--
--
2
Winter 2023 Rates
01/06/2023
01/08/2023
$4,030.00
--
--
--
3
Winter 2023 Rates
01/09/2023
01/12/2023
$2,930.00
--
--
--
2
Winter 2023 Rates
01/13/2023
01/16/2023
$4,770.00
--
--
--
3
Winter 2023 Rates
01/17/2023
01/19/2023
$2,930.00
--
--
--
2
Winter 2023 Rates
01/20/2023
01/22/2023
$4,030.00
--
--
--
3
Winter 2023 Rates
01/23/2023
01/26/2023
$2,930.00
--
--
--
2
Winter 2023 Rates
01/27/2023
01/29/2023
$4,030.00
--
--
--
3
Winter 2023 Rates
01/30/2023
02/02/2023
$2,930.00
--
--
--
2
Winter 2023 Rates
02/03/2023
02/05/2023
$4,030.00
--
--
--
3
Winter 2023 Rates
02/06/2023
02/09/2023
$2,930.00
--
--
--
2
Winter 2023 Rates
02/10/2023
02/12/2023
$4,030.00
--
--
--
3
Winter 2023 Rates
02/13/2023
02/16/2023
$2,930.00
--
--
--
2
Winter 2023 Rates
02/17/2023
02/19/2023
$4,030.00
--
--
--
3
Winter 2023 Rates
02/20/2023
02/23/2023
$2,930.00
--
--
--
2
Winter 2023 Rates
02/24/2023
02/26/2023
$4,030.00
--
--
--
3
Winter 2023 Rates
02/27/2023
03/02/2023
$4,180.00
--
--
--
2
Winter 2023 Rates
03/03/2023
03/05/2023
$4,450.00
--
--
--
3
Winter 2023 Rates
03/06/2023
03/09/2023
$4,180.00
--
--
--
2
Winter 2023 Rates
03/10/2023
03/12/2023
$4,450.00
--
--
--
3
Winter 2023 Rates
03/13/2023
03/16/2023
$4,180.00
--
--
--
2
Winter 2023 Rates
03/17/2023
03/19/2023
$4,450.00
--
--
--
3
Spring 2023 Rates
03/20/2023
03/23/2023
$4,180.00
--
--
--
2
Spring 2023 Rates
03/24/2023
03/26/2023
$4,450.00
--
--
--
3
Spring 2023 Rates
03/27/2023
03/30/2023
$4,180.00
--
--
--
2
Spring 2023 Rates
03/31/2023
04/02/2023
$4,450.00
--
--
--
3
Spring 2023 Rates
04/03/2023
04/06/2023
$4,180.00
--
--
--
2
Spring 2023 Rates
04/07/2023
04/09/2023
$4,770.00
--
--
--
3
Spring 2023 Rates
04/10/2023
04/13/2023
$4,180.00
--
--
--
2
Spring 2023 Rates
04/14/2023
04/16/2023
$4,450.00
--
--
--
3
Spring 2023 Rates
04/17/2023
04/20/2023
$4,180.00
--
--
--
2
Spring 2023 Rates
04/21/2023
04/23/2023
$4,450.00
--
--
--
3
Spring 2023 Rates
04/24/2023
04/27/2023
$4,180.00
--
--
--
2
Spring 2023 Rates
04/28/2023
04/30/2023
$4,450.00
--
--
--
3
Spring 2023 Rates
05/01/2023
05/04/2023
$4,180.00
--
--
--
2
Spring 2023 Rates
05/05/2023
05/07/2023
$4,450.00
--
--
--
3
Spring 2023 Rates
05/08/2023
05/11/2023
$4,180.00
--
--
--
2
Spring 2023 Rates
05/12/2023
05/14/2023
$4,450.00
--
--
--
3
Spring 2023 Rates
05/15/2023
05/18/2023
$4,180.00
--
--
--
2
Spring 2023 Rates
05/19/2023
05/21/2023
$4,450.00
--
--
--
3
Spring 2023 Rates
05/22/2023
05/25/2023
$4,180.00
--
--
--
2
Spring 2023 Rates
05/26/2023
05/29/2023
$4,770.00
--
--
--
3
Spring 2023 Rates
05/30/2023
06/08/2023
$4,550.00
--
--
--
3
Spring 2023 Rates
06/09/2023
07/25/2023
$5,810.00
--
--
--
4
Explaination of Payment Policies - Please Read The Following Information Before Booking:
---
Amenities
Air Hockey
Arcade Games
Fire Pit
Foos Ball
Free Long Distance
Gas Log Fireplace
Home Theater
Hot Tub
Jacuzzi Tubs
Pool Table
Premium Cable Channels
Premium Satellite Channels
Spectacular Mountain View
Wi Fi Internet
XBox 360/Play Station 3
---
Places To Eat
Sugarlands Distilling Company
Tennessee Homemade Wines
Ole Smoky Tennessee Moonshine
Doc Collier Moonshine Distillery
Sugarland Cellars Winery
Ole Smoky Distillery - Barrelhouse
Bootleggers Homemade Wine
Smoky Mountain Winery
Old Smokey Distillery
Mountain Cheese and Nuts
EAT Food Tour
Crocketts Breakfast Camp
Taste Of Italy
Big Daddy's Pizzeria
Log Cabin Pancake House
Cherokee Grill
Flapjack's Pancake Cabin
New Orleans Sandwich Company
Pancake Pantry
Bennett's Pit Bar-B-Que
Flapjack's Pancake Cabin
Alamo Steakhouse & Saloon
Wild Plum Tea Room
Three Jimmy's Good Time Eatery
Crystelle Creek Restaurant and Grill
Smoky Mountain Brewery
Calhoun's Gatlinburg
Tom & Earl's Back Alley Grill
Smoky Mountain Trout House
Best Italian Cafe & Pizzeria
Texas Roadhouse
No Way Jose's
Blaine's Grill & Bar
Flapjacks Pancake Cabin
Johnny Rockets
Mellow Mushroom
The Park Grill
Bubba Gump Shrimp
Atrium Pancakes
The Park Grill
Five Guys
Loco Burro Fresh Mex Cantina
Melting Pot
Peddler Steakhouse
Buckhorn Inn
Things To Do and See
Great Smoky National Park
Gatlinburg Mountain Coaster
Rowdy Bear Mountain Coaster
Ober Gatlinburg Amusement Park & Ski Area
Wild Bear Falls Waterpark
Amazing Mirror Maze
Ripley's Haunted Adventure
Ripley's Moving Theater
Ripley's Marvelous Mirror Maze
Earthquake - The Ride
Amazing Mirror Maze
Earthquake - The Ride
Mountain Life Adventure Rentals
Gatlinburg Trail
Ripley's Aquarium of the Smokies
Herbert Holt Park
Gatlinburg Scenic Overlook
Gatlinburg Space Needle
Historic Ogle Log Cabin
The Village Shops
Mountain Mall
Covered Bridge in the Glades
Riverbend Mall